About Raytheon UK
With facilities in Broughton, Waddington, Glenrothes, Harlow, Gloucester, Manchester and a presence across customer sites together with remote working practices. Raytheon UK is invested in the British workforce and the development of UK technology. Across the country Raytheon UK employs over 2,000 people and supports 8,000 jobs.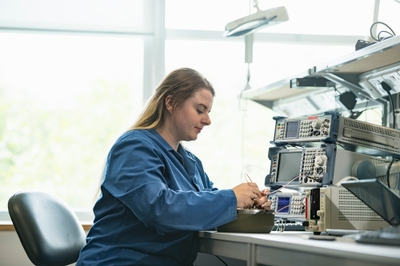 As a prime contractor and major supplier to the UK Ministry of Defence, Raytheon continues to invest in research and development, supporting innovation and technological advances across its core mission areas Weapons & Sensors, and Cyber, Space & Training.
Raytheon UK is a landed company, part of the Raytheon Technologies organisation and sits within the Raytheon Intelligence & Space business.
About Raytheon Technologies
Raytheon Technologies Corporation is an aerospace and defence company that provides advanced systems and services for commercial, military and government customers worldwide. It comprises four industry-leading businesses – Collins Aerospace Systems, Pratt & Whitney, Raytheon Intelligence & Space and Raytheon Missiles & Defence.
Its 195,000 employees enable the company to operate at the edge of known science as they imagine and deliver solutions that push the boundaries in quantum physics, electric propulsion, directed energy, hypersonics, avionics and cyber security. The company, formed in 2020 through the combination of Raytheon Company and the United Technologies Corporation aerospace businesses, is headquartered in Waltham, Massachusetts.
What is the Graduate Development Programme (GDP)?
The Graduate Development Programme (GDP) is a structured training programme our class of graduates on the GDP complete over the course of 2 years in addition to their main role. We work in collaboration with an external supplier, HR and functional experts to deliver a range of training from improving business skills e.g. managing projects, business strategy, company presentation skills etc to team building activities, attending events and developing professional networking skills.
What our graduates say:
"Being on the GLDP was a fantastic opportunity to learn about your own style and personality traits and how you can better adapt your approach to situations and people in the work place. It also provided a great network across the functions and the sites that I have been able to reach out to for support during my time at Raytheon."
"My job role has predominantly been in platform integration for Paveway IV, and during my time I have worked on the Tornado, Typhoon and more recently Protector Aircraft. I have also had many opportunities to work in our R&D projects and have helped qualify the Tactical Penetrator warhead, Anti-jam Module and Modular harness. My job has led me all over the world to support trials including Italy and over 8 states in the US.
I love the variety my job offers the engineering work we do varies all the way through the system life cycle. In more recent years I have become the lead engineer for the Protector programme and have been able to develop my knowledge in the more programmatic areas of work. The most recent opportunity I have taken is to lead the engineering team in our high energy laser programme as we develop a novel technology for user experimentation in the UK."
Summary of Role:
As an Engineering Graduate you will join our established two-year Graduate Leadership Development Programme. This will provide you with personal development skills, networking opportunities and an enjoyable learning environment. As an Engineering Graduate you will receive additional structured Engineering training to improve your technical abilities and job specific training as necessary.
We have multiple sites across the UK and are opening new locations. There will be the opportunity to visit other UK sites and there may also be possibility to attend our US facilities. Raytheon is growing and expanding our Engineering capabilities into new innovative areas and technologies.
Main Duties:
The Graduate Engineer will assist Senior Engineers in all aspects of our cutting edge, high profile, technology in Power, communication and navigation electronics design. This includes: circuit analysis, simulation, schematic capture, PCB layout, test system development, design verification, troubleshooting and design documentation and reports.
As a Graduate Engineer you will be expected to learn and develop these abilities:
Working effectively within a multi-disciplined design team
Develop requirements for new products
Generate detailed designs for solutions that meet those requirements
Consider the demands of other disciplines within the design team
Model concepts and assess solutions
Test and commission prototypes, products and systems.
Design and implement test solutions
Support customer discussions
Problem solving and process improvement
Configuration of product designs and their controlled change.
Design products fit for manufacture
Design to cost
Raytheon Career Development:
Raytheon has a wealth of resources available to help you develop your career from the moment you join. Activities range from on-line learning modules to external training and support for taking professional qualifications relevant to your role.
Candidate Requirements:
Essential:
2:2 or above undergraduate degree (Electronics, Electrical, Mechanical, Aerospace and Avionics or a STEM subject where the candidate has studied Electronics, Electrical, Mechanical, Aerospace, or Avionics)
120 UCAS points or equivalent.
Ability to relocate to different UK sites and relocate during the role if required
Ability to work on-site or ability to relocate before starting
Broad Electronics knowledge
Knowledge of firmware and use of VHDL or C programming languages
Knowledge of Schematic Capture Tools
Knowledge of Simulation Tools
Good and demonstrable problem solving skills
Innovative thinker with self-motivation
Successful candidates will be required to complete a UK SC security clearance applications
Desirable:
Keen interest in electronic design, demonstrated through university projects and/or hobby experience.
Experience with programmable devices
Work experience in engineering/software development or manufacturing environment
Standard Benefits:
25 days' holiday (increasing to 27 days) + statutory public holidays.
Contributory Pension Scheme (up to 10.5% company contribution).
6 times salary 'Life Assurance'.
Flexible Benefits scheme.
Discretionary Bonus scheme.
Enhanced family friendly policies.
37hr standard working week, with an early finish on Fridays whilst operating a 'Hybrid Working Model'*
Canteen facilities are available at Harlow & Glenrothes sites. Manchester & Gloucester offer free snacks & drinks (hot & cold).
* Our Hybrid Working Model supports flexible working arrangements on a formal or informal arrangement, considering both location and/or working hours, subject to business and customer needs. Please highlight any flexible requirements to our Recruitment team to explore the opportunities.
1e127ede32d8f816eacfb0aed73cee11