At Autodesk, we seek people with fresh perspectives, drive, and the willingness to challenge conventions. Working here is inspiring! You'll be able to see results of your efforts in real-world projects.
Unlocking creativity is our reason for being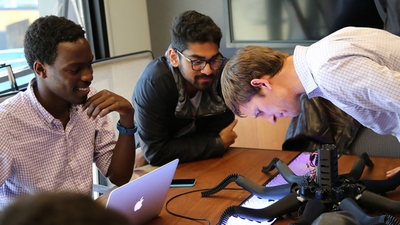 Our internship and early career opportunities offer the chance to do real work on projects that are designed to have big impact on the business and company. (Learning from some of the top talent in the industry is pretty great too!)
BUSINESS
Help us think more globally, market more creatively, grow more sustainably, and practice philanthropy more effectively. Autodesk is a company where good business is intentional, and your participation is valued.
ENGINEERING
Autodesk engineers bring ideas to life through well-designed products and systems. As a software engineer, you'll have the opportunity to collaborate with developers who can teach you almost anything.
DESIGN
We immerse ourselves in design to come up with beautiful, user-friendly experiences. You'll contribute to projects destined to change the face of architecture, animation, fabrication, biology and more. The best part? You'll work with experts who genuinely want to hear your perspective.