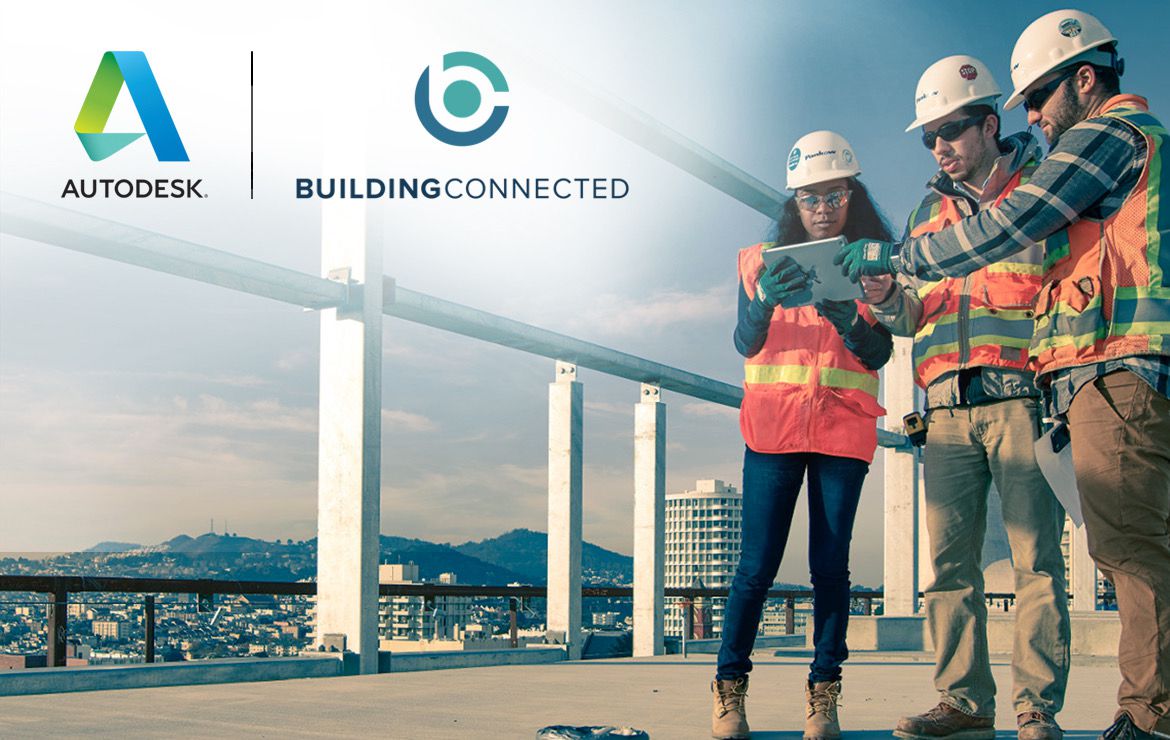 Autodesk, Inc. (NASDAQ: ADSK) has signed a definitive agreement to acquire BuildingConnected for $275 million net of cash acquired. This acquisition will add bid management, risk analysis and other preconstruction solutions to Autodesk's construction portfolio. In addition, BuildingConnected's network presents an opportunity to create a robust digital marketplace for construction goods and services.
BuildingConnected has built a network of more than 700,000 construction professionals, helping real estate owners and general contractors find and hire qualified contractors for their projects. It is the largest and most active digital network of construction professionals. BuildingConnected's customers include Turner Construction, McCarthy, Mortenson, StructureTone, Skanska, Clark Construction, Ryan Companies and AECOM.
BuildingConnected CEO and co-founder Dustin DeVan said, "Bid management is a critical step in preconstruction, since bidding is the genesis of construction projects. Our game-changing suite of preconstruction tools are saving customers time and money. We've helped thousands of owners, general contractors and subcontractors streamline their businesses and communicate better. Together with Autodesk, we can expand the platform's capabilities and scale globally."
Autodesk CEO Andrew Anagnost said, "We are investing in digitizing and automating construction workflows. Autodesk's goal is to connect construction processes across design, build and operations. BuildingConnected has proven to customers the tremendous value in moving from traditional rolodexes, whiteboards, emails and spreadsheets to an easy-to-use digital bidding platform. BuildingConnected, along with Autodesk BIM 360, Revit, AutoCAD, and our acquisitions of PlanGrid and Assemble Systems, gives us a comprehensive construction offering and go-to-market capabilities. We look forward to integrating our recent acquisitions and making construction Autodesk's next billion-dollar business."
"This acquisition provides an opportunity for Autodesk and BuildingConnected to connect every business in the construction industry, becoming the definitive source of information throughout the sector," said Jim Lynch, Vice President and General Manager, Autodesk Construction Solutions. "Our tools empower all stakeholders with greater visibility and better information to make immediate decisions. We're excited about creating a robust digital marketplace for the global construction industry, helping to boost productivity, while lowering cost and risk."
In addition to its leading bid-management platform, BuildingConnected offers TradeTapp, a subcontractor risk analysis platform, and Bid Board Pro, a platform that helps subcontractors manage and win more bids. BuildingConnected is the only bid-management platform that provides general contractors and owners with project-specific risk mitigation recommendations based on subcontractor qualification data. This helps contractors efficiently vet and make more informed decisions when selecting subcontractors.