As this year's recipient of the Sustainability Innovation award for the AEC Excellence Awards 2020, Skanska USA has accomplished an incredible feat with the Georgia Institute of Technology, Kendeda Building for Innovative Sustainable Design.
While most construction projects experience challenges of all types, what makes the Kendeda Building for Innovative Sustainable Design extremely unique is that it is built to the rigorous sustainability guidelines of the International Living Future Institute's Living Building Challenge 3.1 standard and LEED Platinum status.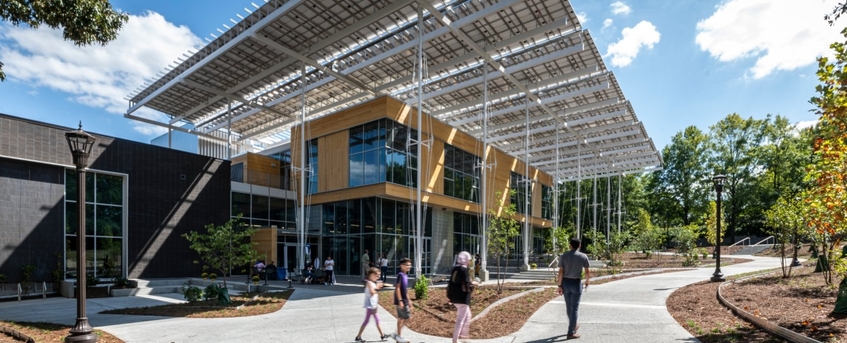 Challenge
Is a net-positive, sustainable, urban building really viable in the hot and humid Southeastern United States? The Kendeda Fund and Georgia Tech sought to prove it's possible with the new Kendeda Building for Innovative Sustainable Design.
The 36,978 square foot education and research facility includes a 170-person auditorium,
classrooms, maker spaces, a green roof outdoor space, cisterns for rainwater collection and reuse, and integrated plantings around the site to provide food for students throughout the year. The project achieves a net-positive footprint for energy, water, and waste with sustainable elements such as composting toilets, solar roof panels, and wetlands to naturally treat runoff.
Salvaged materials were an important component to meet 90-100% recycling requirements. Materials even came from the campus itself, such as the original 1880s pine joists discarded after a tower renovation and reused in a stairway.
With only 11 fully certified Living Buildings in the United States, nothing could be taken for granted with the project and its requirements. Design obstacles and changes required a new level of agility for planning. Every material was exhaustively researched and documented—not only for what it contained on the Red List, but also the entire supply chain and how it was sourced. To help further reduce carbon emissions as a result of construction in the future, Skanska USA worked with Autodesk and other industry leaders to develop and launch the Embodied Carbon in Construction Calculator (EC3).
"Often during the Kendeda Building for Sustainable Innovation project, one change would have a cascading effect on all of the imperatives we needed to meet for the Living Building Challenge. We simply couldn't have met this goal for a regenerative building without BIM and Autodesk technology." —Jimmy Mitchell, Director of Project Solutions, Skanska USA
Solution
To comply with the 20 Living Building Challenge requirements and meet the client's goals, Skanska USA explored multiple design options for a regenerative building. Early phases of the project also underwent major shifts to meet the program and the budget.
The team used Revit and Assemble to model and price these complex, evolving designs accurately and quickly. Skanska USA went a step further with real-time rendering in VR to visualize the choices for the client. The team could show the sustainable material, the cost associated, and toggle through the options to really experience the differences. For example, a VR demonstration revealed that 45% glazing of the façade allowed adequate natural light at a cost that was still within budget.
Skanska USA also relied heavily on Navisworks for coordination and clash detection of the facility, from the underground utilities up through the second floor. This included fire protection, MEP, prefabricated piping, and additional systems such as potable water.
Once construction began, the team used BIM 360 to stay on schedule and within budget and to communicate the latest information being generated in the office to subs in the field.
"No matter the type or size of project, BIM can help you achieve sustainability goals. Always think about the opportunities not to waste, even in terms of becoming a paperless project." —Jimmy Mitchell, Director of Project Solutions, Skanska USA
3 Key Insights
During construction, Skanska USA used drones to capture project progress photos and videos. With Autodesk Recap Photo, Skanska processed drone photos to create interactive 3D point cloud and mesh models to share site conditions for the schedule.
A new walk-out green roof for the Georgia Tech Urban Honey Bee Project was added to the scope during the schematic design phase. After evaluating different solutions with Revit and Assemble that wouldn't impact the sustainable guidelines already met, the team made space for the green roof by relocating two classrooms to another section of the building and lowering the ceiling of the auditorium.
At turnover, Skanska delivered a COBie-formatted construction asset database, a requirement outlined by Georgia Tech. This was a structured collection of commissioning data pulled from BIM 360, warranties, as-built drawings/models, and construction submittals. This organised database helped provide day-one operational readiness to facility managers.
"Going into this project, we couldn't just rely on past experiences or say 'I did this on my last job.' There are no comparisons. You had to look at it differently with a new mentality and approach." —Matthew Williams, Senior Project Manager, Skanska USA