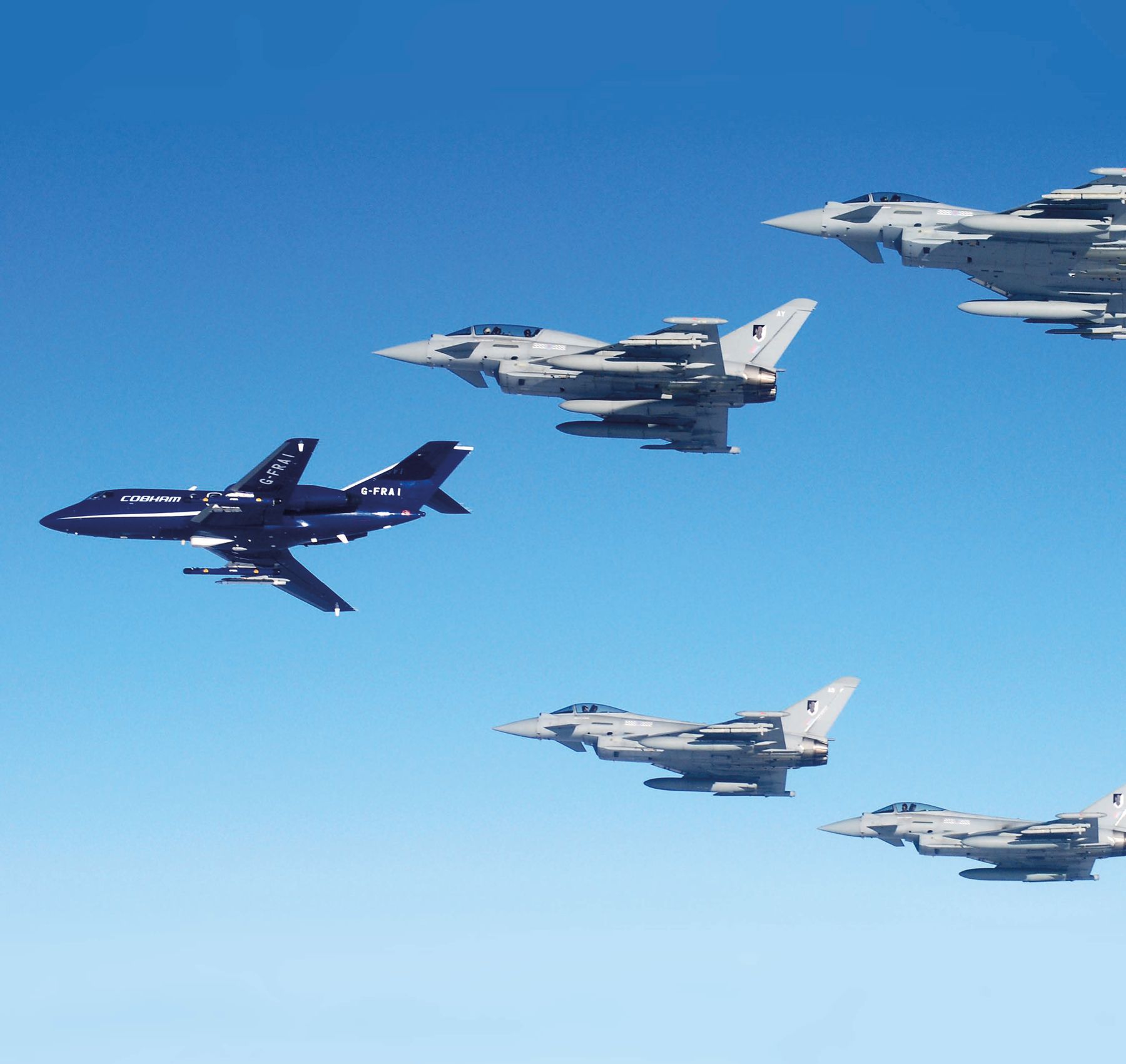 Cobham plc is the UK's third largest aerospace and defence company and enjoys both an incredibly close working relationship with the Ministry of Defence and a shared, rich history. Cobham was founded by, and takes its name from, the legendary aviation pioneer, Sir Alan Cobham. Sir Alan was both a pilot in the Royal Flying Corps during the Great War and an aviation pioneer who did much to raise the profile of aviation between the First and Second World Wars.
As part of his long-distance flying, Sir Alan was quick to recognise, and later realise, the potential of air-to-air refuelling. Even today, Cobham plc is synonymous with aerial refuelling, with its drogue systems fitted on most of the world's advanced tankers, enabling them to refuel other aircraft mid-flight.
Cobham is now a global company offering a diverse range of products and services across aerospace, land, maritime and space domains. Product lines include vital equipment for NASA's Mars Science Laboratory Mission, sophisticated electronic assemblies for the EA-28G Growler, F-35 and UAV aircraft and ground-penetrating radar to enhance counter-IED detection. With over 30 years' experience of training the Royal Air Force and Royal Navy within a contested, degraded and operationally-limited environment, Cobham has delivered innovative and advanced Electronic Warfare techniques, working closely with our armed forces partners. "Our emphasis on electronic warfare, radars and communications make us highly relevant in today's contested and data-rich military environment," says CEO David Lockwood.
Cobham also aims to take advantage of advances in technology in the field of electronics in other ways. From telegraph to email, switchboard to satellite communications, the ability to create ever more capable devices in ever smaller packages has influenced how the world conducts business, transport and national defence. In the late 1980s Cobham laid the foundations for the electronics capabilities that it has today; building its critical technologies, skills, routes to market and customer base. Cobham progressively added specialist capabilities including microwave electronics, antennas and radios, and it moved further into the satellite and mobile communications market. Today the Group's radar and communication subsystems are at the heart of many of the world's most capable platforms, aircraft like the F-35 Joint Strike Fighter, the Eurofighter Typhoon as well as advanced naval vessels, satellites and military vehicles.
As well as providing communication and other electronic systems, the company has expanded into safety and survival systems including supplying life support equipment to every US astronaut and the International Space Station, regulating oxygen on Airbus and Boeing airliners and providing inerting systems, which mitigate the risk of fuel vapour explosions on commercial and military aircraft.
Looking to the future, Cobham's people have developed next generation xenon ion satellite propulsion technologies and are squeezing whole radio frequency front ends, including sensors, onto a single chip. Flights demonstrating the capabilities of unmanned aircraft in airspace have taken place, and we have proven the capability of unmanned air-to-air refuelling. Communication products, particularly mobile communications in harsh or difficult environments, have been another core capability for Cobham. Connected cockpits are rapidly changing the face of aviation and air traffic management, which includes military aircraft wishing to operate in controlled airspace. Cobham is a pioneer in this field for both airlines and military platforms and are working closely with Air Forces around the world to address these challenges.
So, while Cobham is an international company with 10,000 employees worldwide including a major business in the United States, it maintains an exceptionally close relationship with the UK Ministry of Defence. In addition to providing all manner of systems, services and support across the military, it has embraced and embodied the whole force approach, both at home and abroad. From Reaper to Sentry, Typhoon to F35, Cyprus to deployed exercises in the Middle East, Cobham has stood shoulder to shoulder with its military colleagues, delivering operational excellence at every turn.
Cobham employs a high number of ex-military personnel giving an ability to both retain and reinvest their expertise. As signatories of the Armed Forces Covenant, Cobham is keen to expand and deepen our extremely close working relationship with the military. Cobham actively recruits veterans, not least because they're great people who do great things, but also their experience is invaluable in some of the roles and services that we provide. Cobham continues to increase our proportion of reservists, cementing even further our psychological contract with the service.
Technology will continue to be a vital part of Britain's security. With aerospace and defence continuing to be a major part of the UK's future prosperity and maintaining her technological edge, the partnership between UK industry and the Ministry of Defence is as vital today as it ever was.
Cobham is working on tomorrow's technologies today – keeping people safe and solving some of the world's most challenging engineering problems. Cobham continues to look forward to the future and to working with the UK Ministry of Defence as our partners in pioneering the latest technologies and innovation.