If you are successful in your application, you'll be invited to a selection day via our virtual Development Centre.
Due to the current situation with COVID-19, all our Development Centres are taking place virtually on an online video conferencing app. When you receive your invite we'll let you know more information about how to download the app.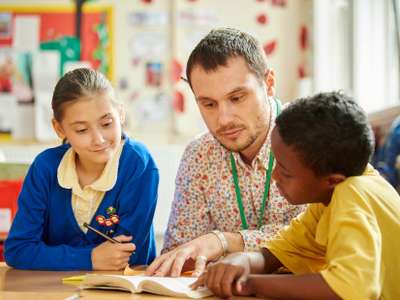 Despite taking place virtually, we have made every effort to keep the key aspects of our Development Centres the same. The information below on what a selection day involves is still a useful read to help you understand what to expect:
On the day we'll get to know you even better through a series of exercises. Unlike most assessment centres, ours isn't just about the skills you have right now – it's an opportunity to demonstrate your potential to learn and grow.
The focus of the day will be you and your development. We're not looking for fully formed teachers at this point; we're looking for people with the attributes to become them.
So what does the selection day involve?
An interview
Chat to an assessor about our key competencies and talk through moments you've demonstrated them. You can also ask them any questions you have about the Training Programme.
A group task
Work together on a task set by your assessors. They'll be looking at how you interact with a group and come up with solutions. Afterwards you'll have one-on-one time with an assessor to talk through your own, and the group's, performance.
A teaching episode
A week before your selection day you'll be sent information about a four-minute teaching episode to prepare. You'll deliver it on the day, receive feedback from assessors, and then re-deliver it having taken this feedback on board.
We love a level playing field. That's why none of the assessors will have seen your application form – you'll only be judged on how you perform on the day.