Our business is foundational technology, and shaping the extraordinary is what makes an Arm leader. Everything we do is guided by our Core Beliefs, and this describes how we live as part of the Arm community.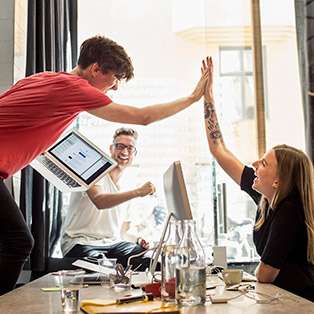 We, not I
Collaboration first, egos last.
Start with long-term value to customers and partners, and work back from there.
Collaborate, decide, commit, and bring people with you.
Make the most of all the skills and knowledge across Arm; share information with those who need it.
Care about the people around you.
Passion for Progress
Innovation that enables our ecosystems, Arm and our people to thrive.
Work with pace and judgment. Adapt to circumstances.
Take risks in support of Arm's progress.
Be accountable for the decisions you make. Learn from failure.
Pursue innovation relentlessly.
Be Your Brilliant Self
"You're surrounded by the best minds"
Skilful individuality, performance and fulfilment.
Be authentic.
Seek and embrace differences.
Encourage curiosity and challenge.
Give people trust and autonomy; show people they can trust you to do brilliant work in pursuit of Arm's goals.
It is important to recognise that the Core Beliefs work in tension, together with each other and are not designed to be deployed individually. The three Core Beliefs together define our culture.