Every summer we welcome a variety of placement and sandwich students to the CLF to spend a year with us performing research projects, helping in the labs, and assisting in the offices with communications.
​For all of these students it is an exciting opportunity to work with and learn about cutting edge research and get some practical work experience, both inside and outside the lab. All these roles are giving the placement students real world experiences and skills that are invaluable when they go back to their respective Universities, and in their future careers.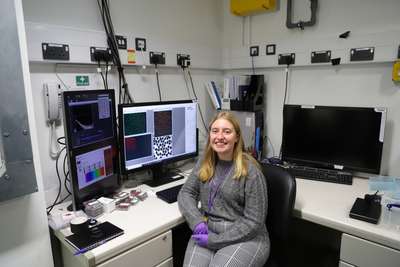 Sandwich/Placement year students come in a variety of different forms – some take a year out from studying their degrees (Bachelors or Masters) to work with us, while others are working here while still completing a year of study for their degree. Currently, there are over 70 placement students at the STFC, of which 15 are at the CLF in a variety of positions. I had the joy of interviewing four of them (Holly, Christopher, Aleksander, and Anissa) to find out about their work and overall experience so far.
Holly Smith
Holly is on placement at Octopus from the University of Birmingham where she is completing a Masters in Biochemistry. As the weeks have passed, Holly has been made to feel very welcome by the people she works with, and was pleasantly surprised when they have already begun asking for her opinion in the lab. Her initial concerns about imposter syndrome and thinking she wouldn't know much compared to the people she'd be working with have washed away.
Most of Holly's days so far have been spent helping users plating up cells, imaging with FLIM (Fluorescence Lifetime Imaging Microscopy) and starting to get measurements for her own mini project on fluorescent molecules in different glycerol solutions. Holly said she feels she is learning so much from this placement and loves how much practical experience she is gaining from being in the lab every day and assisting a variety of users with a broad range of work.
​"I am loving my placement experience so far and love getting to see proper research up close. I cannot wait for all the learning opportunities this next year will bring."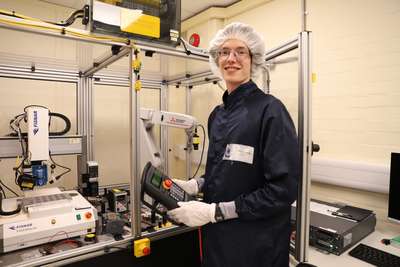 After finishing her degree, Holly's positive placement experience so far has made her strongly consider wanting to do a PhD and potentially post-grad research.
Christopher Gardner
Christopher is on placement in Target Fabrication from the University of Southampton where he studies Mechanical Engineering. Christopher undertook a placement year to take a break from his university degree to get some hands-on experience with robotics and gain useful skills for a graduate career in an engineering field.
As everyone does with a new experience, Christopher told me he had an initial concern that there might be expectations for him to constantly be producing results to demonstrate his efforts during placement. However, after a few weeks on placement, Christopher told ​​me that his team has a different perspective than he expected.​
"I was pleasantly surprised by how understanding my group have been when it comes to the non-linear progress of our research projects."​
He told me that unlike how University practical experiments are designed, real-world projects don't progress at a constant speed with goals or milestones being hit at a steady pace. There are always uncertainties that will change the speed of the project's progression. Christopher found it reassuring that when those uncertainties happen during his placement work, his group is understanding of them.​
Most of his day-to-day work involves working on the 5-year running placement student project of attempting to automate the process of fabricating a simple target, which consists of programming robotic arms to accurately place hairs width thin pieces of gold foil on a grid. Alongside that, Christopher does bits of programming and assists with some of the 3D printing in the target fabrication group.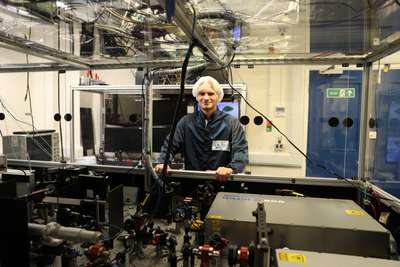 Christopher is unsure of his path after placement and graduation but is hoping this placement experience will give him a variety of experiences and knowledge to make a better-informed future career decision.
Aleksander Flak
Aleksander is on placement in CALTA from the University of Bristol where he is studying for a Masters in Physics. To help gain work experience and attempt to stand out once he graduates, Aleksander decided to undertake a placement here at the CLF. Despite their initial concerns about the transition from university to an office environment and 9 – 5 ​workdays, Aleksander said he has been settling in quite quickly and enjoys the work-life balance the placement offers compared to university.
Aleksander's main project while at the CLF is to create a set-up for quality testing the imported gain medium that will be used for the lasers in EPAC's facilities. He is also learning LabVIEW with the hope of automating the quality checking process for ease of use in the future. Aleksander was very excited to tell me about his work at CALTA over his first few weeks on placement.​
"Getting to help with so many different projects in the CALTA labs adds a nice variety to my week alongside my ongoing project."
After his placement and finishing his degree, Aleksander is thinking of pursuing an industry-based position related to scientific computing and programming.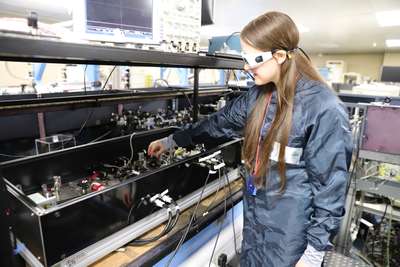 Anissa Mayouf
Anissa is on placement in Vulcan from the University of Bath where she is studying for a Bachelors in Physics with Astrophysics. They decided to undertake a sandwich style placement year at the CLF to gain some practical experience in STEM, take a break from university life, and inspire their graduate career prospects. Initially, Anissa was concerned about her lack of knowledge of lasers and that she would not fit in with her assigned group. In response to this, Anissa reflected on her feelings from her first few weeks on placement.
"Since the beginning of my placement, I have found the wo​rk environment is very friendly and supportive​, which have alleviated my early concerns about placement."
Anissa's main duties involve helping to align the optics and performing checks in the laser areas and front end of Vulcan. Very enthusiastically, Anissa said her favourite experience so far was getting dressed like an astronaut to go into Target Area Petawatt (TAP) and getting to see all the really big optics up close.
"I really love working here and working with lasers, it's been really nice to explore the rest of Physics. I am strongly considering come back to the CLF in the future to work."
After their placement and finishing her degree, Anissa is considering getting a Masters and potentially pursuing a PhD as she wants to get into research. Their placement here at the CLF so far has made them strongly consider doing their Masters research project in a laser field rather than her original plan of Astrophysics. ​​