We caught up with Jemima to discuss her move from Croydon to Canada and how we supported her along the way.
You've worked for us for about eight years now, tell us about your career so far.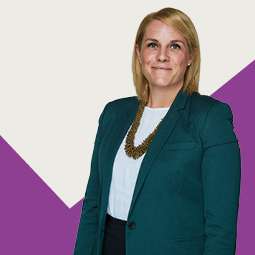 In the eight years I've been working at Mott MacDonald, I've been involved in recruitment.
I started off in the UK graduate team, moved to our Hong Kong office for five months and returned to Croydon, so this isn't my first relocation.
My role has changed over time and I'm now our recruitment systems manager, where I help solve problems that our recruiters face.
This involves improving the way our recruiters use technology, helping them to recruit more efficiently, finding new ways to interpret our brand building our social media platforms and ensuring we are compliant with regulation.
Therefore, problem solving is a large part of my day-to-day role.
What made you relocate?
It wasn't for a career move, but for personal reasons. My husband moved to Toronto because of work and I knew we had an office there. We saw it as a great opportunity to live somewhere new, and I hoped I could stay with the company. First, I had a discussion with my manager about how I thought I could still do my role and the potential benefits for the business. After speaking to her, I came away feeling very supported and was encouraged to get in contact with people from the Toronto office to discuss my move and some ideas I had about how I could get involved once I was there. It's been an exciting year, lots of things have changed but one continuity for me has been Mott MacDonald.
How did we support your move?
My transition from Croydon to Toronto has been relatively easy. I previously met some of the Toronto team at our AGM, so it didn't feel like I was a stranger to them and before I stepped on the plane, I was in contact with the HR manager for Canada. At first it was strange to feel like I was a new employee again, but this was beneficial for me because I was able to ask lots of silly questions without being judged and it made the experience feel fresh. It was comforting to receive all the basic information around health care and tax before I travelled, because it stopped me from frantically searching through all the different websites for the answers to my questions. Since being here, I've been taken out to lunch with my colleagues to get to know them, I've gotten involved in different sporting activities (playing football during the FIFA World Cup being one of them), and even after working here for eight years I've learnt so many things about the company that I didn't know before the move.
How does Toronto differ from Croydon?
Toronto has never felt strange. This may be due to arriving at the beginning of summer, and the snow hasn't arrived yet! We live in the city, which is good for me as it's close to the office, but it is also close to a lake which has a beach, and there's a lot of outdoor activities to get involved in. It's also really close to the Niagara Falls, so as you can imagine there are a lot of places to see. Toronto is an easy place to live and we've met a lot of friendly people. We have never felt alone in the city, however, we still have a lot to see and do which we are looking forward to.
Has there been any challenges with working remotely?
No, not really. The time difference means that the way I communicate with my team has slightly changed but the use of Skype and Office 365 has allowed me to keep up to date with everything that goes on. My day tends to start with calls with teams around the globe, and then I have the afternoon to get on with work. If I need to wake up early to take a call, I do. The company is very flexible, so if I work my core hours it doesn't matter when I finish my day.
The only challenge with working remotely is keeping the same level of face to face meetings that I was used to having with people when I was in Croydon. To improve this, I've started using video Skype calls instead of just phone calls. In September, I'm back in the UK for the launch event of a leadership course I've been accepted on which will give me the opportunity to step back into the Croydon office for a few days. I'm excited to see my team but also to meet some new people who've joined since I came to Toronto.
Finally, do you have any advice to give anyone who is looking to relocate to a new country but would like to stay with their company?
Be honest with your manager if you want to go overseas. Take people up on their offers of advice and they may be able to put you in contact with people they know. Ask questions even if you think they're silly!