At LSEG, the role we play in the markets encapsulates not only our diversified global financial markets infrastructure and data business, but also our environmental, social and governance (ESG) responsibilities as a Group. We caught up with David Harris and Luke Manning, who together lead and coordinate LSEG's group-wide sustainability work, to discuss LSEG's sustainability goals, our commitment to the Race To Zero campaign and the impact of the integration with Refinitiv.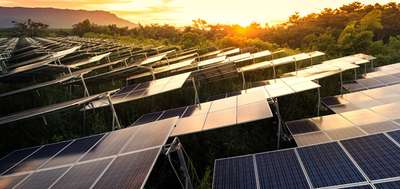 Tell us a bit about your role. How did you come to work in sustainability?
Luke: At LSEG we focus on two sides of sustainability – transforming our markets and transforming our own operations to be a market-leading, responsible business. My focus is on the latter. I come from a communications background, with a particular interest in how comms can be used to shape the culture, values and reputation of a business. Our sustainability approach is a key part of that culture piece, because of the broad impact it has – on your brand, your talent, your ability to do business, your operations and your supply chain.
David: I was a sustainability consultant before joining FTSE Russell to develop sustainability indexes for investors. When FTSE Russell was fully acquired by LSEG we made the case for improving our own sustainability practices. My role adjusted soon after to join up that sustainability agenda across LSEG, focusing particularly on the sustainable finance and investment agenda, including driving collaboration externally and between different business divisions.
LSEG is in a powerful position at the centre of capital markets to support market-wide transformation to create a more sustainable and net-zero carbon economy. This is about how we work and partner with all our clients, and with governments and regulators, to drive and enable positive change.
What is the Race To Zero and how will LSEG achieve it?
Luke: There's always an environmental cost of doing business and that includes a certain amount of emissions associated with your operations. The Race To Zero is about shifting to a zero-carbon future by 2050, which can be achieved in a couple of ways. The first is by reducing your 'absolute emissions'; this means becoming more efficient with things like how you manage your property footprint and how you procure and use energy. It also means looking at new ways of working, such as how we travel into work or whether meetings can take place virtually, rather than in person. The second is by neutralising any remaining emissions – the aim is to take the same amount of carbon out of the atmosphere as you put in.
We've committed to achieving zero-carbon by 2050, but we've also set ourselves science-based targets for 2030 as a staging post, to make sure we're on the right track.
David: In addition to our own operations, we're also looking at how we can enable participants across financial markets to address climate change. We're a diversified business across market infrastructure, data and analytics, which means that we've got an incredible range of relationships with a real opportunity to be a force for good.
There are three areas we are focused on here.
Firstly, data and disclosure. Investors need high quality, consistent, globally comparable data in order to drive the investment which enables decarbonisation. So we're working with exchanges around the world to create consistent climate reporting guidance.
Secondly, the green economy. We're supporting the growth of the green economy through developing market-leading sustainable finance (green revenue) taxonomies, supporting green infrastructure, launching the Green Economy Mark for London Issuers and a Sustainable Bond Market for issuers globally. .
Thirdly, enabling climate transition. From a Data & Analytics standpoint this includes our partnership with the Transition Pathway Initiative, developing climate transition indexes and supporting carbon pricing markets through Point Carbon. From a Capital Markets perspective this is about supporting businesses in their plans to transition to a low carbon economy. One of the ways in which we're doing this is through our recently announced transition bond segment, part of our Sustainable Bond Market. This will allow those businesses that have set credible strategies for how they're going to reduce their emissions to access the capital they need to put those plans into action.
What impact has the acquisition of Refinitiv had on LSEG's commitment to sustainability?
David: Sustainability is about transformation. The coming together of the businesses allows us to bring together some very exciting sustainability capabilities on both sides. However, we also need to use the opportunity to stop, re-evaluate the interconnections across all parts of the Group, and be ambitious on how we can partner more deeply with the marketplace to accelerate this agenda.
Luke: The great news is that our ambitions separately across the heritage LSEG and Refinitiv businesses were already closely aligned – and we were both already market leaders in this space. So the opportunity ahead of us is now seeing if one plus one can equal three when it comes to sustainability. There's no better way of bringing everyone together, and showing the opportunities of a new combined culture, than rallying around a common and critical cause like this.