Minimising the Environmental Impact of Marine Seismic Surveys
CGG Sercel has announced the successful deployment of its QuietSea Passive Acoustic Monitoring (PAM) system to the UK, following approval by the UK Department for Business, Energy & Industrial Strategy (BEIS) and Joint Nature Conservation Committee (JNCC) of its use for a seismic survey operated by CGG in waters off the Shetland Islands.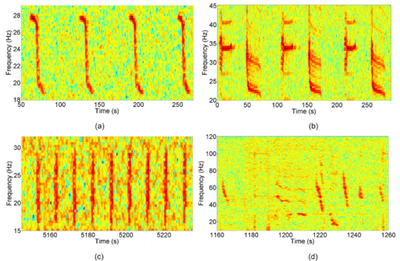 Unlike other separate antenna PAM systems, QuietSea is fully integrated with the seismic acquisition and navigation systems, being incorporated with the hydrophones in the cables towed behind the vessel. This enables greatly enhanced marine mammal detection capabilities in a wide frequency listening range that covers a large variety of vocalising cetacean species.
By eliminating the need for deployment of separate PAM antennas at sea, QuietSea also reduces the risk of accidents during deployment, retrieval and operation, thus significantly reducing operational downtime and possible equipment replacement costs.
In addition, prior to its deployment in UK waters, QuietSea performance was stepped up with the extension of the frequency bandwidth to 180 kHz, allowing the detection of porpoise click trains.
The image shows examples of spectrograms: (a) four Z-calls produced by Antarctic blue whales, (b) two types of alternative calls produced by Madagascar pygmy blue whales, c) 20 Hz pulse train produced by fin whales and (d) five D-calls produced by North-Pacific blue whales.
CGG has been implementing prevention and mitigation measures for over ten years with the help of marine mammal observers (MMO) and PAM technology. They ensure that a 500-meter exclusion zone around the energy sources used in seismic surveying is free from cetaceans and turtles prior to authorising a gradual ramp-up of the sources. This soft-start alerts cetaceans and fish of our presence and gives them time to leave the vicinity of our operations prior to sources reaching full power. Monitoring for marine mammals continues throughout the survey and if they enter the exclusion zone data acquisition is halted.
The increasing industrialisation of the oceans raises questions about the potential human impact on marine life. CGG as a member of the International Association of Geophysical Contractors (IAGC) has also been supporting the Joint Industry Program which has invested more than 40 Million USD since 2006 in research to address scientific knowledge gaps relating to the impact of sound on marine life.