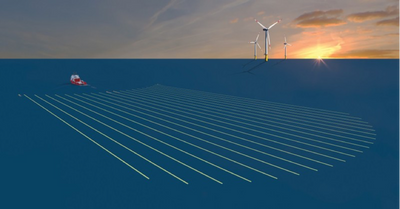 CGG and Kappa Offshore Solutions are pleased to announce PIKSEL, a compact marine seismic solution specially designed for high-resolution 3D near surface imaging of offshore areas targeted for infrastructure development.
Capitalising on CGG's streamer technology, widely recognised for its outstanding robustness and accurate measurement capabilities, and Kappa Offshore Solutions' expertise in equipment integration and hydrodynamic modelling, PIKSEL can acquire high- and ultra-high-precision seismic data using a new and highly efficient process.
This new system improves the efficiency of geohazard assessment surveys and paves the way for geophysical and geotechnical data integration, which is of particular interest when siting offshore renewable energy infrastructure.
The seismic image shows a near surface cross-section intersecting numerous pre-historic river channels just beneath the seabed of the North Sea. Gaining the most accurate image and model of the near surface is critical to avoid geohazards such as trapped gas and reduce the risk of subsidence due to the weight of offshore facilities.