CGG has completed the final seismic imaging of the joint CGG-TGS Greater Castberg survey. This started data acquisition in 2019 using CGG's proprietary TopSeis™ technology which utilises sources positioned over a moving receiver array as opposed to the more conventional positioning in front.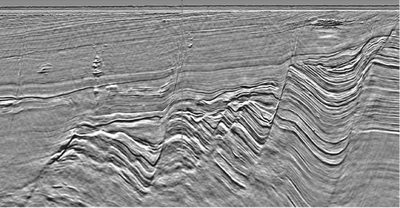 The survey covers the highly prospective Castberg area in the Barents Sea, with potential hydrocarbon reservoirs in rocks ranging in age from ancient Devonian basement (when life began to expand on land) to the more recent Paleogene (when mammals took over from dinosaurs). Imaging was performed using CGG's latest velocity modeling and imaging technology, including Time-lag Full Waveform Inversion (TL-FWI).
The Castberg and surrounding area is notorious for the imaging challenges arising from geological features such as buried gas pockets, a number of which are visible in the image, the high acoustic impedance of the seafloor and diffracted multiple reflections from the scouring of the seabed by icebergs.