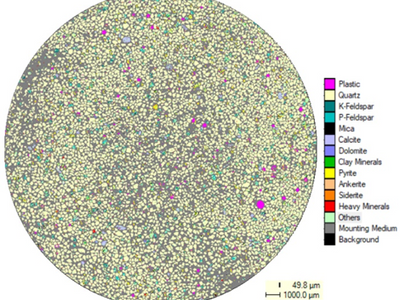 CGG Environmental Geoscience and Robertson laboratories, in collaboration with Brunel University London and Swansea University, has developed an innovative automated workflow to identify, quantify and track the source of microplastics in the environment.
The methodology builds on CGG's existing geoscience laboratory and automated mineralogy expertise which are commonly used in industry to quantify naturally occurring minerals in rock samples.
The images above show a sample of beach sand containing a large number of spherical plastic microbeads approximately 200 micrometres in diameter.
This new technique can be used to quantitatively calculate the volume, composition, modal size and morphology of plastic particles within a sample, as well as interpret their source.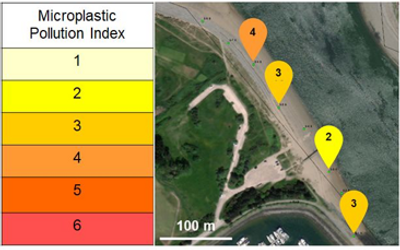 The map shows the Microplastic Pollution Index derived from results of a small-scale trial near Conwy, North Wales, where this workflow was tested in a range of typical real-world environments.
The Microplastic Pollution Index provides an easy to visualise measure of the scale of plastic pollution at a site.
One of the most interesting results of the Conwy trial was the high level of plastic microbeads still persisting in the environment despite a UK ban in 2018, this possibly reflects continued recycling of legacy products by sedimentary processes.
Now that an accurate, robust and fast measurement tool has been developed the next steps are to apply this workflow in a number of different environments.
CGG are currently working on implementing this workflow in several new proprietary projects with further details to be announced soon.