MSc in Exploration Geophysics, University of Leeds; BSc in Environmental Geophysics, University of East Anglia.
Current project: Cornerstone Evolution 3D, a merge of CGG's bandwidth-extended conventional and true broadband seismic surveys over the UK Central North Sea (CNS). The 35,000 km² project focuses on re-processing and imaging existing seismic data with the latest signal processing, model building and imaging technologies.
Current focus: Velocity modelling salt bodies by iteratively testing different salt scenarios.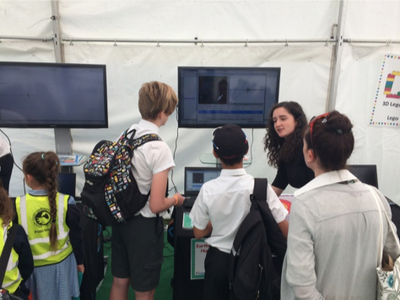 I chose to study geophysics because I had A-levels in Maths, Physics and Geography, a strong interest in the Earth and the desire to study something with real-world applications, rather than too strongly theoretical. I chose to study Environmental Geophysics at UEA as its variety appealed to me. I did not know what I wanted to do as a career and this course offered lots of flexibility in terms of module choices and exposure to different areas of environmental science while still providing solid numerical foundations.
After my BSc I knew I wanted to work in industry in a technical role, so I decided to do Exploration Geophysics at Leeds, which was much more specialised and industry-focused. This was an intense but enjoyable year of study that set me up perfectly for applying for jobs in geophysics, and allowed me to complete my dissertation as part of a summer internship with a company, which was a very valuable experience.
I started at CGG in October 2018. CGG is very well regarded within the industry and their focus on developing the most recent technologies and delivering high quality products appealed to me. CGG had visited Leeds several times so I was aware of the high standard of training they provide to new graduates.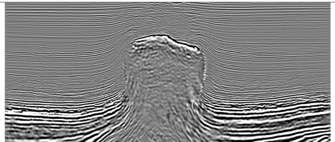 The best thing about working at CGG is the collaborative working environment and friendly atmosphere.
The training resources are excellent and technical developments/successes are shared with everyone, so there is always something new to learn. You get to work with a diverse group of knowledgeable people to solve interesting problems, as well as get involved in many social events from lunchtime sports to wine tasting.
I also recently had the opportunity to volunteer for the Big Bang South East which is a fair aimed at inspiring schoolchildren to pursue STEM subjects.
I am currently working on salt scenario testing. We have many salt diapirs to model, so I am running Reverse Time Migration (RTM) to image different salt body interpretations to try and find the best possible image for each one.