PhD in Geoscience, Newcastle University; BSc in Geology and Petroleum Geology, University of Aberdeen.
I studied Geology and Petroleum Geology (BSc) at the University of Aberdeen and then went on to complete a PhD in Geosciences at Newcastle University. I decided to study geology at university because whilst at school, I became fascinated by how geologists use observations of modern systems to predict what happened in the past- similar to detectives, accept geologists are solving mysteries that happened millions of years ago. By studying geology, I also got the opportunity to consider a range of career paths. This includes working in the oil and gas sector, mining industry and even teaching, and within these profession no two days are ever the same – one day you could be behind a desk or in the lab and the next day you could be in the field.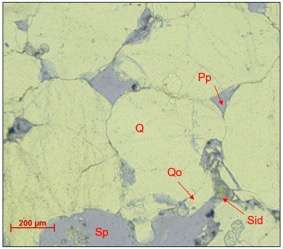 In Summer 2019, I completed an 8-week geoscience internship at CGG's North Wales office in Llandudno. As an intern, I worked on a single-client, multi-well project assessing the reservoir quality of the Lower Goru and Sembar Formations in the Indus Basin, Pakistan. During this project, I was responsible for creating petrographic montages. This involved analysing thin sections and combining my observations with data from conventional core analysis (CCA) and QEMSCAN, to summarize detrital and authigenic mineralogy, diagenetic relationships and reservoir quality. Alongside my project work, I got the opportunity to attend a Wireline Log Interpretation Workshop, which provided an overview of the main logs used by petrophysicists and hands-on experience loading and interpreting data in the Senergy software programme IC. I also completed core logging training, which involved recording detailed observations of sedimentary features such as grain size, sorting, bioturbation and sedimentary structures. Overall, this internship enhanced my technical skills and provided an invaluable insight into the role of sedimentologists and reservoir geologists within the energy industry.
Throughout my internship at CGG, I found the work to be both engaging and challenging. Halfway through my internship, I got the opportunity to sit in on a client meeting and to present some of the interim results during a meeting with a peer review panel. This made me feel that I was genuinely contributing to the project and that my input was highly valued.
Furthermore, during my internship, my Team Leader arranged for me to attend a regional meeting and to deliver a technical talk on my PhD research. This made me feel fully integrated within the CGG team and provided an invaluable networking opportunity for me to discuss my research with industry professionals.
Out with work, CGG offer a range of social and well-being activities, including weekend team building events and BBQs. Overall, CGG provides a great work-life balance for its employees and Llandudno is a lovely place to both work and live.
At the end of my internship, I was offered a position as a Graduate Geoscientist for the following year, on completion of my PhD. During my final year of my PhD, I became a Campus Ambassador for CGG. This involves representing CGG at university careers fairs and university events and encouraging prospective students to apply to graduate positions available at CGG.