Are you ready for an adventure of a lifetime? Where you can add immediate value by using the knowledge and skills you have gained in your degree to take on the challenges of a global company providing energy and improving lives?
Whether you're looking for a placement or a full-time position, it's where you start that matters.
At Phillips 66, we will help you pursue your passions while you continue to learn and grow through real life experience and team collaboration.
For more than a century, Phillips 66 and its predecessor companies have been helping meet the growing energy demands around the globe. Our company combines a robust portfolio of refining and marketing, midstream and chemicals segments that ranks among the largest and best-performing players in the industry.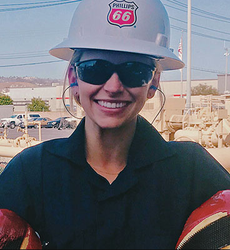 About Us
Phillips 66 has an unparalleled foundation for success with an experienced leadership team, a talented global workforce, operations and safety excellence and stability. We attribute our success primarily to our talented workforce around the world. We strive to provide our employees with the best place to work and develop their careers.
With a focus on diversity and inclusion, we are committed to maintaining a workforce with a wide variety of cultural experiences, backgrounds and perspectives. The company's highly experienced leaders provide the vision and strategy for our continuing business success. We cultivate a culture in which all our employees can learn, have personal accountability and apply new skills each year.
Your future can begin today. If you're a recent graduate or ready to graduate, come and discover the career opportunities that await you at Phillips 66. With more than a century of operation within the energy segment, you'll be working with some of the best and brightest in the industry. We're sure you'll fit right in.
Location: The Humber Refinery
The Humber Refinery is located in North Lincolnshire and has a crude oil processing capacity of 221,000 barrels per day.
Humber is one of the most complex refineries in the Phillips 66 portfolio and one of the most sophisticated in Europe. It is a fully integrated refinery that produces light products and fuel oil.
The Humber Refinery is recognised as one of the best in the world, with a near-continuous programme of investment designed to maintain its place in the international league table.
The east coast location allows cost-effective North Sea crude oil imports and product exports to European and world markets.
We are a member of the Gradcracker Five-Year Club
We have been a Gradcracker advertiser for at least five years. We recruit regularly and should still be doing so whenever it is time for you to apply for placements or graduate positions - make sure that you Follow us to be alerted to any of our new opportunities.
Follow
Following