About Us
General Dynamics UK is one of the UK's leading defence companies, and an important supplier to the UK Ministry of Defence (MoD).
General Dynamics UK is committed to delivering cutting-edge capability to the UK Ministry of Defence and to customers overseas - ensuring those operating on the frontline can do so effectively.
It currently provides the tactical communication system used by the UK Armed Forces, known as Bowman, and is designing and developing the next-generation tactical communication and information system, which will be used to plan, deploy, manage and monitor communications and information for the Army.
We are also delivering AJAX, the future of Armoured Fighting Vehicles (AFV) for the British Army. In addition, the Company provides a range of avionic systems that are used on different types of military aircraft around the world.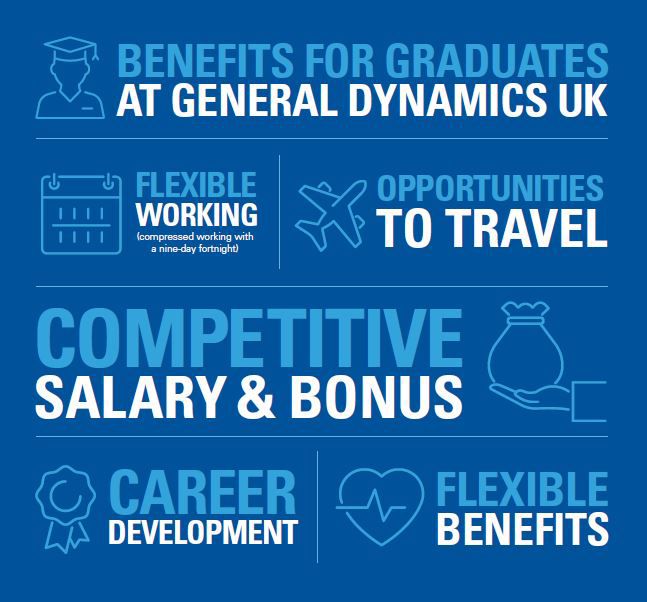 Our Locations
Chippenham, Wiltshire
The idyllic market town of Chippenham, a short distance from Bath and just over an hour's journey from London, boasts a reputation as one of Wiltshire's most vibrant and lively areas. It offers a wide selection of shops and cafés, unique features such as Bowood House, and even the opportunity to stroll along the banks of the River Avon right in the town centre. Rich with history and packed with points of interest, it's no surprise it was ranked 6th on National Express's list of most popular UK destinations. So with its blend of architectural gems, modern shopping facilities, beautifully maintained parks and Purple Flag Status nightlife, there's something for everyone - making it an ideal location to live and work.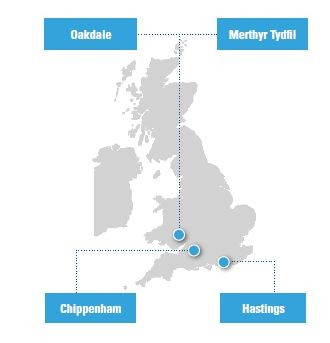 Oakdale, South Wales
Oakdale's location means you get a choice of where to live because it's placed between Cardiff and Newport. Cardiff suits city lovers, because there is always something going on with countless shops, restaurants and bars. If you are a nature lover, it is literally on your doorstep. The Brecon Beacons are close by for walking and outdoor sports, while Swansea is just along the coast for seaside and surfing fans. If culture's your interest, there are more than 400 castles and ancient monuments to explore in Wales.
Merthyr Tydfil, Wales
As one of the towns forming the Heads of the Valleys, Merthyr Tydfil is rich in culture, landscape and scenery. Located between Brecon Beacons National Park and the Welsh capital of Cardiff, you're spoilt for choice with the range of attractions and activities on offer. The town's public resources, friendly residents, family alliances, rich history, and open landscape means it's a highly sought-after location for all ages.
Hastings, Sussex
There's more to Hastings than a certain battle fought in 1066. This cosmopolitan seaside town is really three towns in one - to the east, the Old Town boasts a charming mix of half-timbered houses and narrow streets vividly recalling old seafaring days, the bustling contemporary shopping Town Centre sits in the middle, and to the west, St Leonards features grand terraces and squares reminiscent of stately London. The area has recently undergone a period of costly renovation, with new highlights including a £14m pier and the Jerwood modern art gallery set against the magnificent backdrop of Hastings Castle. So for a stimulating yet relaxing lifestyle, look no further than Hastings to live and work.
We are a member of the Gradcracker Five-Year Club
We have been a Gradcracker advertiser for at least five years. We recruit regularly and should still be doing so whenever it is time for you to apply for placements or graduate positions - make sure that you Follow us to be alerted to any of our new opportunities.
Follow
Following