Electroimpact's mission is to be the premier supplier of automated equipment to the worldwide aircraft industry. To do this, we will hire the best people and remove all barriers which would prevent them from doing the best job they can.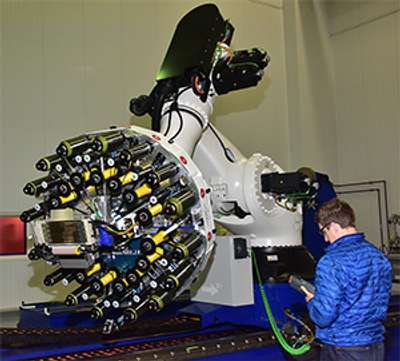 Electroimpact is an engineer-driven company.
We are able to maintain continuity throughout the project process because the same engineer is involved in every stage of the project, from initial planning and development, to final assembly, tooling setting and buyoff.
The engineer that designs the tool or machine also is responsible for detailed drawings, coordinating manufacturing, assembly, and any tooling setting or machine alignment.
This minimises the disconnects that happen at a typical company with an engineer, drafter, manufacturer, and assembler.
Electroimpact is a company of over 600 professionals dedicated to the design and manufacture of state-of-the-art aircraft assembly equipment. The company is extremely proud of the fact that over 400 of our employees have engineering degrees.
Electroimpact was founded in June of 1986 by Peter Zieve, PHD. Located in the shadow of the Boeing Corporation's Everett Plant, Electroimpact started its life primarily as a supplier of machine tools to Boeing. But over the years Electroimpact has gradually expanded its business overseas to act as a major supplier for other major aerospace companies such as Airbus, and Israeli Aircraft Industries.
Electroimpact's main campus and head office is located in Mukilteo, Washington, USA. However, to better serve our customers, Electroimpact has established a large satellite office in the UK with over 100 engineers and has full time staff in many other countries where we have sold equipment to better support our customer base.