About EI:
Founded in 1986 by Dr. Peter Zieve as a haven for engineers. Electroimpact provides factory automation solutions for aerospace including machine tools and fixtures.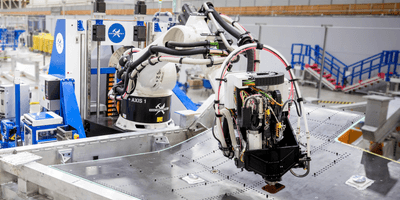 Electroimpact is 100% owned by engineers that work in the business. This creates an environment in which good engineering is more important than good profit.
Current UK projects include:
Building machines and robots that drill and fasten A220 & A320 wings in the UK.
Robotic drill and clamping solution for Airbus's Wing of Tomorrow programme.
BAE Systems work that covers a range of applications from Machine-Robot pairs that drill and fasten various airframe parts on BAE System's Eurofighter typhoon.
State-of-the-art modular robotic drilling solutions for BAE Systems' Factory Of the Future with industry 4.0 compliance.
Job Description:
Electroimpact has grown to be one of the largest system integrators of aircraft assembly lines. A significant customer base provides Electroimpact with projects throughout the world. As part of this World class service EI also provides a high-level maintenance package to customers who request it, this is known as 'Support'.
'Support' is a service provided by EI to clients who wish the OEM to maintain their assets onsite. This service like other maintenance companies comprises of reactive and preventative maintenance, but what separates us from other companies is the addition of continuous improvement, these improvements are mainly driven by; Cost Reduction, Safety, Quality, Cycle Time and can consist of mechanical, electrical & software upgrades/modifications which are created and implemented by the support staff.
Daily duties may include:
Completion of planned preventive maintenance
Reactive maintenance across a variety of disciplines
Creation of Risk Assessment and Method statements
Root cause analysis of faults
Design changes/improvements
Customer relations
Risk mitigation
The support engineer role is a shift-based work period, which may require you to work anti-sociable hours.
Requirements:
BEng or MEng in Mechanical, Electrical, Aerospace or equivalent.
Pass grade on 'EI Engineering Test' given at later stage in interview process.
If you enjoy using hand tools, working on mechanical or electrical systems or operating machine tools, you will be able and actively encouraged to use these skills. Electroimpact is an engineer driven organisation that seeks individuals with strong communication skills coupled with a solid engineering background.
We've signed the Gradcracker feedback pledge.
(This means that we will supply feedback if requested after an interview.)
1e127ede32d8f816eacfb0aed73cee11