At Mercedes AMG High Performance Powertrains we offer a 2 year Automation Engineering Graduate Programme which will tap into your passion in technology and determination to bring increased performance and reliability to the track via the development of new and novel manufacturing processes. You will have the opportunity to contribute to our success story, challenge and help change how we produce Power Units as we embrace a more automated world. You will be instrumental within the Automation Team to help deliver increasingly more complex and technologically advanced automation machines. From developing a simple sketch into fully-fledged production solutions for either Formula 1, Formula E, or our AMG Project One products.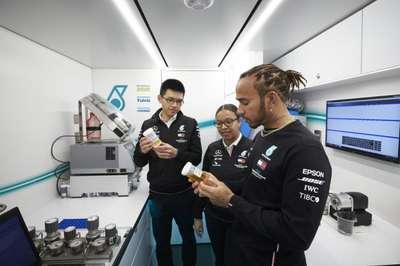 Purpose of the role is to…
Contribute to a team effort in creating bespoke, special purpose machines to automate the manufacture of high value, low volume and complex Power Unit (PU) assemblies
Involvement in the design and creation of new Automation and Control Systems
Design and creation of software for PLC and HMI's
Identify new and emerging technologies that can be used to bolster automation at HPP
Liaise with suppliers to help deliver automation projects
THEREFORE WE NEED YOU TO…
Be skilled at…
PLC, HMI and NC runtime systems in an industrial control systems software. Such as Beckhoff TwinCat and CODESYS
Excellent communication skills
Self-motivation, adaptability and creativity
Have experience of…
Demonstrate knowledge of…
Industrial automation, motion systems, robotics, imbed sensors and analytics
Automation system architectures
Engineering first principles to an excellent level
Practical, "hands-on" experience to complement your academic studies
Hold these qualifications…
BEng in some form of Automation Engineering, Electronics Engineering, Software Engineering or Mechatronics degree.
On track to achieve a 2.1 degree, or above, in a relevant Mechanical / Automotive / Mechatronics / Motorsport / Aeronautical or related degree e.g. Science or Maths
A strong academic background in relevant A-Level, or equivalent disciplines, for example Maths or Sciences
Be…
Motivated to deliver truly revolutionary systems
Adaptable and creative with an impetus to adopt new and emerging technologies
A curious, tenacious and driven individual with a hunger to work in a fast paced environment
Success in this role will be if you…
Working in the automation team, there will be broad range of experience. Success will be on a project-by-project basis and will typically be based on the application of technology and the delivery of automation solutions.
Additional information:
Demonstrate an ability to embrace change and rise to challenges set by your line manager
Have high interpersonal skills, self-motivated and constantly strives for perfection
We offer the opportunity to work in a state of the art Technology Centre, being involved in exciting technological challenges alongside some of the world's best engineers. You will get the opportunity to engineer solutions in world class facilities and, having been thoroughly proven at our Technology Centre. You will be able to see your ideas bring improvements in F1, Formula E, or powering the revolutionary Project ONE hypercar.
Our benefits package includes:
A salary of £33,000pa
Collective bonus
Company lease car scheme
36 days' annual leave
Access to a generous pension scheme
Onsite Gym
A variety of other benefits and staff discounts
We've signed the Gradcracker feedback pledge.
(This means that we will supply feedback if requested after an interview.)
1e127ede32d8f816eacfb0aed73cee11