At Mercedes AMG High Performance Powertrains we offer a 2 year Manufacturing Engineering programme which will tap into your passion to manufacture and determination to win, giving you a real opportunity to contribute to our success story. In Manufacturing we face the challenge of turning engineering designs into precision components in a fast paced environment. Our varied responsibilities include investigating new equipment, and processes, to refining existing production methods to improve quality, capacity or to reduce cost.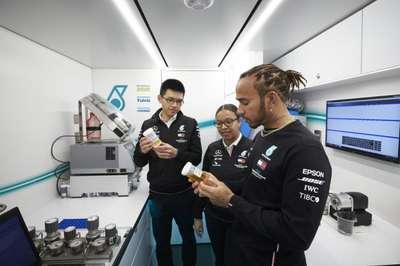 As a Manufacturing Graduate you'll have the opportunity to experience the manufacturing cycle from concept (design) to manufactured item. You will be challenged to provide innovative solutions to real engineering issues we face on the track and you will develop a broader knowledge of manufacturing, all whilst working on real engines components within tight deadlines.
As a team we pride ourselves on challenging and developing our graduates with a rotation plan which will provide exposure to a breadth of engineering within Formula 1. In addition to this, we are also leading the transfer of state-of-the-art Formula 1 technology into the revolutionary Mercedes AMG Road Car "Project One". To do this you will;
Have the autonomy to actively contribute to your team, suggesting new methods of working, challenging existing methods if other options are available
Have the opportunity to utilise your Catia skills, working with our designs and drawings
Have the opportunity to utilise your CAM skills, working to program components that will go racing
Have time working with our highly skilled engineers to create solutions in order to deliver our F1, Formula E and Automotive powertrains
Have access to the latest technology that will stretch your capability, knowledge and skills
What do we need from you?
A curious, tenacious and driven individual with a hunger to work in a fast paced environment
A proven academic background with a 2.1 degree or above in a relevant engineering subject
A demonstrated passion for manufacturing components
An excellent understanding of engineering first principles
Previous experience working with Catia and OpenMind CAM would be desirable
Practical, "hands-on" experience to complement your academic studies
A team player, able to build relationships across manufacturing and the wider business
A flexible and adaptable approach which will enable you to develop your skills
An open and innovative mind, as most of the problems we solve are not run of the mill
The courage to challenge and desire to be challenged, to expand your technical knowledge and skills with a focus on continuous improvement
What can we offer you?
We offer the opportunity to work in a state of the art Research and Development Centre, being involved in exciting technological challenges alongside some of Formula 1's best engineers, with the autonomy to engineer solutions from a clean sheet. You will also have the opportunity to work towards chartered status with the IMechE via our MPDS registered scheme and will be assigned a personal mentor who will support you throughout.
Our benefits package includes:
A salary of £33,000pa
Performance bonus
Collective bonus
Company lease car scheme
36 days' annual leave
Access to private healthcare and generous pension scheme
Onsite Gym
A variety of other benefits and staff discounts
The application process:
Submit your on-line application, CV and covering letter
Your application will be screened by HR and the hiring manager
If successful you will be invited to attend an Assessment centre between November 2022 – March 2023.
If successful your scheme will start in September 2023.
We've signed the Gradcracker feedback pledge.
(This means that we will supply feedback if requested after an interview.)
1e127ede32d8f816eacfb0aed73cee11