At Mercedes AMG High Performance Powertrains we offer a 12 month Automation Engineering Placement Programme which will tap into your passion in technology and determination to bring increased performance and reliability to the track via the development of new and novel manufacturing processes. You will have the opportunity to contribute to our success story, challenge and help change how we produce Power Units as we embrace a more automated world. You will be instrumental within the Automation Team to help deliver increasingly more complex and technologically advanced automation machines. From developing a simple sketch into fully-fledged production solutions for either Formula 1, Formula E, or our AMG Project One products.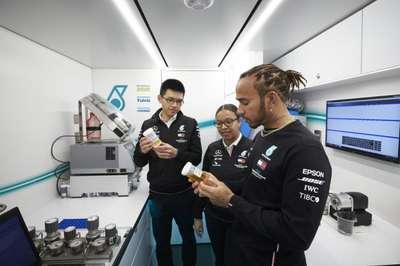 As a team we pride ourselves on challenging and developing our placement students with a rotation plan within a diverse and multi-faceted Automation Team which will be aimed and tailored to your skill sets. Giving you exposure to the engineering challenges in Automation, Robotics and Machine building.
In more detail, these include:
Machine and Process Design: Define and deliver machine concepts and detailed designs to ensure the requirements of the automation process is met. To be innovative towards our unique challenges to deliver efficient, compact, flexible and inherently safe solutions.
Control System and Robot Programming: The heart of the automation system; to define and deliver functional software programs to tie all the peripherals of a machine together. From embedded sensors, machine vision, and motion devices, through to industrial robots, and data analytics.
Machine Vision and Metrology: Machine vision and metrology plays a crucial part for in-process inspection, to identify, read and measure all that is placed in view. There is a responsibility that the correct equipment is down selected and programmed using proprietary software to ensure upmost robustness.
Digital Validation and Virtual Commissioning: Working closely with mechanical, electrical and control system engineers, a virtual machine is created to simulate all motion profiles to purvey the design intent into the machine system program. The simulation then allows the production ready system program to be validated before any physical element of the machine is complete. Conversely it allows us to create Digital Twins to validate new product introductions and machine upgrades.
Electrical Control System Design: With every automation solution, a robust and complaint control system must be designed, connecting multiple systems together to create a coherent and holistic solution.
Mechanical and Electrical Build: Every automation machine that is design within HPP is built within HPP, bringing to fruition all disciplines mention above as part of the commissioning and testing processes.
What do we need from you?
A curious, tenacious and driven individual with a hunger to work in a fast paced environment
On track to achieve a 2.1 degree, or above, in a relevant Mechanical / Automotive / Mechatronics / Motorsport / Aeronautical or related degree e.g. Science or Maths
A strong academic background in relevant A-Level, or equivalent disciplines, for example Maths or Sciences
An excellent understanding of engineering first principles
Practical, "hands-on" experience to complement your academic studies
Excellent communication skills
Self-motivation, adaptability and creativity
The courage to challenge and desire to be challenged, to expand your technical knowledge and skills
What can we offer you?
We offer the opportunity to work in a state of the art Technology Centre, being involved in exciting technological challenges alongside some of the world's best engineers. You will get the opportunity to engineer solutions in world class facilities and, having been thoroughly proven at our Technology Centre. You will be able to see your ideas bring improvements in F1, Formula E, or powering the revolutionary Project ONE hypercar.
Our benefits package includes:
A salary of £20,000pa
Collective bonus
Company lease car scheme
36 days' annual leave
Access to a generous pension scheme
Onsite Gym
A variety of other benefits and staff discounts
We've signed the Gradcracker feedback pledge.
(This means that we will supply feedback if requested after an interview.)
1e127ede32d8f816eacfb0aed73cee11