Do you want a career with a company where the boundaries of creativity and technical capabilities are relentlessly tested? Where your passion and involvement with the processes surrounding new technology and bespoke materials can ensure the safety and well-being of our teams whilst enabling us to stay ahead on the Formula 1 race track and the road? To allow us to create the greenest Power Unit on track? At Mercedes AMG High Performance Powertrains we are responsible for the design, manufacture, testing and racing of the World Championship winning Formula 1 hybrid power units used by the Mercedes AMG PETRONAS Formula 1 team. We are also proud to supply power units to the Aston Martin, McLaren and the Williams Racing team.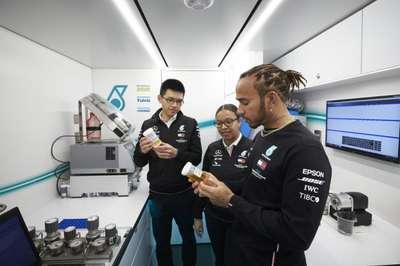 As a team we are responsible for supporting the whole business, ensuring we do business in a dynamic and flexible manner to win safely. We are responsible for our ISO registrations in Health and Safety, Environment and Energy. It is up to us to be the 'danger experts', always reviewing the latest and greatest technology to keep our people safe and enable them to succeed.
What development can you expect?
As a team we pride ourselves on sharing knowledge and developing our interns supported by our mentoring program. You will have exposure to all departments and areas within the business. You will be expected to troubleshoot, propose and deliver appropriate, value added and safe solutions within demanding deadlines. You will be asked to familiarise yourself with legislation and the ISO standards to which the Company is registered, ensuring our compliance, and attend and contribute appropriately to safety meetings, both within the Company and those held with Safety Professionals from the UK based F1 Teams.
What are we looking for?
A proven academic record with expected 2:1 or above in a relevant degree, for example, Engineering/ Industrial Systems/ Manufacturing, ensuring inclusion of Quality, Health and Safety and Environmental modules or alternatively you have a strong occupational health / risk or industrial environment background through a social sciences degree
You will have a collaborative style, which will enable you to effectively challenge convention, offering solutions that are resourceful and appropriate.
You will have an innate curiosity to learn and discover and not be afraid to constructively challenge established practices with a view to deliver high performance.
You pride yourself on the projects you deliver, ensuring that every detail is considered and presented in a methodical, conscientious and professional manner.
You will be team orientated, organised with the ability to deliver within strict deadlines.
You will be enthusiastic, with a genuine passion for what we do.
People who are willing to go the extra mile to help the team succeed.
What can we offer you?
We can offer you the opportunity to work and learn within a small team, spanning all areas and a multitude of processes across the company. You will champion specific health, safety and environmental research, providing advice within projects regarding products, process and facility. You will assist the department and Senior Management Team with the collation of data which will be central to project delivery and company objectives. You will support your colleagues at HPP by co-ordinating various key HSE resources and activities.
Our benefits package includes;
A salary of £20,000pa
Collective bonus
Company lease car scheme
36 days' annual leave
Access to a generous pension scheme
Onsite Gym
A variety of other benefits and staff discounts
We've signed the Gradcracker feedback pledge.
(This means that we will supply feedback if requested after an interview.)
1e127ede32d8f816eacfb0aed73cee11