Who we are
Arcadis is the leading global design and consultancy firm for natural and built assets. Through our capabilities in design, consultancy, engineering, project and management services, we help our clients to transform the world, and improve quality of life.
We're 27,000 people strong, operating in over 70 countries. Collectively we generate €3.3 billion in revenues.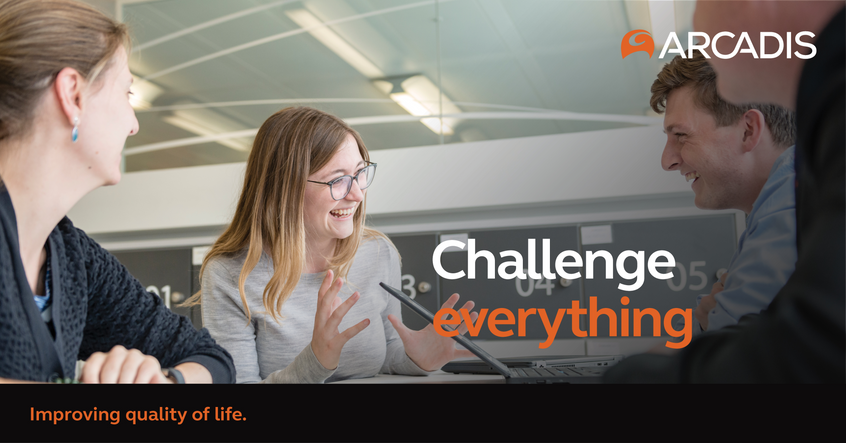 We improve everyday quality of life by creating spaces where people want to live, work and play, improving mobility and making best use of our natural resources. Throughout our long history as a leading design and engineering consultancy, we have never stopped innovating. Whether looking at how connected and autonomous vehicles will impact our cities or how we can meet the UK's growing data needs, through to how companies can improve their workplace environment or how to digitise road and rail infrastructure, we are proud to be at the forefront of designing a world for the next generation.
We apply our deep market sector insights and collective capabilities to help our clients deliver outcomes that are exceptional and sustainable.
We're a business built on pushing boundaries and our future will be defined by the mindsets of our people.
That's why we need people who can understand and appreciate how they fit into the bigger picture. We're looking for people who take inspiration from everywhere, every person and every interaction.
We want people who treat every moment as an opportunity to learn.
So if you're looking to build a career that can transform your world, Arcadis is the perfect place for you.
Graduates
Our Graduate Programme is a 3-year Programme and you will have access to a Programme Manager throughout. The Programmes are aligned to relevant professional bodies and we will provide you with the experience, support and learning opportunities to achieve your associated accreditation route specific to your programme and to facilitate your progression as per the programme requirements.
Who we're looking for
You may think a company like Arcadis is only interested in people with an Engineering or Construction related degree, however, we actively encourage applications from candidates who are from non-engineering or construction related degree disciplines for our Consulting and Project Management programmes.
If you don't have a relevant degree and you apply for our Project Management or Cost Consulting Programmes, you will undertake an MSc conversion course, this will be studied through distance learning.
Awards
We are proud to be named in the top 3 Best Big Companies to work for ranking in the UK's 2021 Best Companies Awards, also taking the top spot for Best Big Company in London and second place in the Engineering and Construction sector.
With winners assessed across a variety of factors including workplace engagement, leadership, staff well-being, development opportunities, company culture and values, Arcadis' entry into this prestigious annual list sets it apart as truly going the extra mile to create a thriving workplace environment. Learn more here.

We are a member of the Gradcracker Five-Year Club
We have been a Gradcracker advertiser for at least five years. We recruit regularly and should still be doing so whenever it is time for you to apply for placements or graduate positions - make sure that you Follow us to be alerted to any of our new opportunities.
Follow
Following