Please can you tell us about yourself and your role at SSE?
I first joined SSE's Generation Graduate Scheme a year ago after completing my MSc in Mechanical Engineering at Cardiff University with a year in industry at GE Aviation. The scheme lasts two years which gives graduates ample opportunity to experience the breadth of opportunities the Wholesale business has to offer. My first two placements were within the Engineering Centre based in Glasgow Waterloo Street, initially within the Wind and Hydro teams, before moving on to work on thermal asset within the Pressure Parts team. My current placement is on site at Great Island CCGT Power Station in Campile, Wexford, working on Balance of Plant.
What are your thoughts on the Programme?
Following my year in industry, I was acutely aware of the enormous amount of technical experience a Senior Engineer gathers over a career. As such, on entering SSE I was particularly keen to focus on accumulating technical experience and to work towards Chartership status. I have been amazed at how helpful and forthcoming everyone is at SSE in helping me achieve that goal. So far no one has shied away from providing me with challenging projects and, equally, people are more than happy to answer any question I have. Even if they do not know the answer, often they will pass your question on to the person who does know, helping you create a network of contacts throughout the business.
In addition to having that body of expertise to draw on, in my opinion the best thing about the SSE Graduate Scheme is being able to work with so many different forms of generation assets, at different periods of their lifetime, in an array of different teams.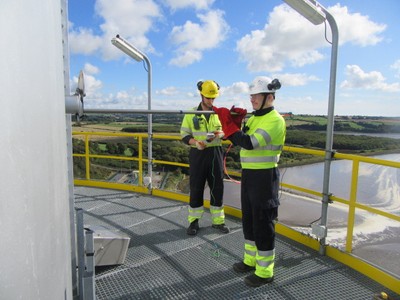 The structure of the scheme encourages you to gather experience and network across as much of the Wholesale business as possible over the two years. This structure is flexible and enables graduates, within reason, to choose their future placements, facilitating them in pursuing the individual development opportunities they are particularly interested in, while contributing to the business and adding value.
How much on site experience have you had during the graduate programme?
I have had the opportunity to get on site in each of my placements so far. As part of my first project I thoroughly enjoyed walking down one of the penstocks at Sloy Hydro Station and climbing through the Main Inlet Valve in the company of a contracted Engineer performing Non-Destructive Ultrasonic Inspections on the Penstock wall.
During my second placement I visited a variety of thermal generation stations over a short time period. This experience supported me greatly in learning about the different technologies and systems implemented over the diverse SSE thermal fleet, allowing me to compare and contrast the different problems faced at each station.
I have spent the last five months on site at Great Island Combined Cycle Gas Turbine (CCGT) Power Station, predominantly working with the site Balance of Plant Engineer. However, one thing I have enjoyed the most about this placement, which has set it apart from the rest, is the variety of different projects I am exposed to. On one day I will be studying the Auxiliary Cooling Water Heat Exchangers, a system I have gotten to know intimately, the next I will be up the stack helping to map a temperature and pressure profile of the flue gas within the stack to use in flow and emissions calculations.
What are your aspirations for the rest of the graduate scheme?
Going forward I would like to work further with renewable technologies, as my time so far has been heavily weighted on SSE's thermal assets. All the while I will continue to focus on gaining professional accreditation, drawing on the company's vast network of expertise.