2019 - our 150th anniversary.
This milestone year provided an opportunity to honour the vision and hard work of all those who have played their part in our long and successful history.
Their passion is echoed today in our people's work with our clients and partners to create and deliver exemplary assets that benefit society and enhance our quality of life.
Innovating and adapting
Maintaining and growing a successful business for 150 years takes more than passion and pride alone.
Our longevity reflects our ability to understand and anticipate the needs of our clients and wider society, innovating and adapting in response to a changing world.
Creating strength through stability, it also speaks to our family culture, our entrepreneurial spirit and the enduring values that run through our business.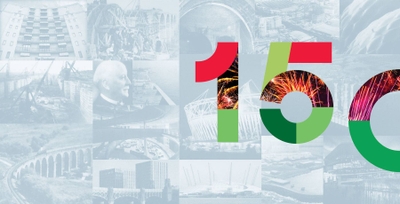 This milestone has provided an opportunity to reflect both on where we have come from, and our plans for the future. To help mark our anniversary and the start of the next chapter in our story we refreshed our brand identity to reflect our standing as a contemporary construction company with a rich heritage and a strong, values-led family culture.
Throughout the year we celebrated with our people, our clients, partners and contacts and reflected on our achievements but we also looked forward to the exciting future we see ahead.
Building on our legacy
We also used the year to build on our legacy, offering the people we work with a chance to make a difference within their local communities.
We hope that sharing our story and our passion for construction will help showcase the many opportunities within the industry and inspire a new generation of professionals to join our ranks.
Our rich history of engineering excellence and technical innovation has helped shape Britain's landscape and contributed to raising standards in the industry.
It is a legacy which we are determined to build on as we look to realise our vision and continue proudly building Britain's future heritage.