Just like you, we're different. We understand that everyone has something distinct to offer and it's this diversity that makes us stronger. We look for future leaders who can bring a diversity of strengths, and who are innovators, creative thinkers, data and digital disruptors.
Our Internship programme offers you the opportunity to explore your own unique path and to build a diversity of strengths that will form the solid foundation of a successful career.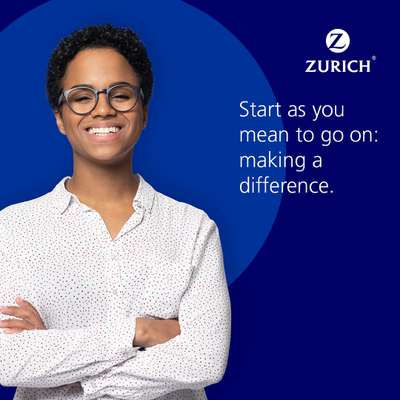 Our Internships will provide career-building exposure to real jobs and real work and the opportunity to make a real impact. Along the way you'll get to know how we do business, what drives our people and their success, and what we put first: our customers and the things they love and want to protect.
Your summer intern programme will give you a taste of what life at Zurich could be like in one of our Future Leader graduate roles. You'll also get to see how diversity and inclusion are baked into our business, evolving decision-making, driving innovative solutions and making us quite different from any other organisation.
We're global, employing 50,000 people in 170 countries, caring for our customers and helping them protect the people, places and things that matter most.
What can I look forward to?
As a Finance intern you'll gain knowledge and experience in a real-life business environment with tasks involving Financial Reporting, Management Accounting, Business Partnering, Expense Analysis and Treasury Management. You could be placed in Accounting and Reporting, Business Analytics or Business Partnering and whichever team you join you'll be involved in meaningful project work for a range of stakeholders.
And to ensure you have the best start, a dedicated buddy will be on-hand to support you throughout your summer with us. Our Finance internships are a 10-week programme; likely start will be mid-late June.
What you'll need:
To be in your penultimate year of undergraduate study and predicted minimum 2:1 STEM degree (or the equivalent)
At least 112 UCAS points – BBC grades (or equivalent) from 3 A-level subjects excluding General Studies
A-C grade in maths and English GCSE
Excellent numerical and analytical skills.
Our intern programmes are designed for undergraduates who have the drive and enthusiasm to innovate the future of Zurich.
You'll be joining a business where we know that difference comes from the inside out. We are genuine and transparent in how we help our customers to protect the things they truly love, and we value diversity as something that makes us stronger and sets us apart. In fact, it's what makes all the difference.
Here, you'll have every opportunity to innovate the future of Zurich in a welcoming environment where different opinions are valued, personal needs are respected and opportunity is equal for all. You too will be encouraged to work in an agile way that helps you to balance your personal and work commitments.
1e127ede32d8f816eacfb0aed73cee11