Ready to start your own Stantec story?
How often do you get to see a drawing become a reality? Have you ever touched, seen, or walked through something you helped design?
Our engineers, architects, interior designers, landscape architects, construction managers, scientists, planners, project managers, and business professionals live these experiences every day. As a student, you could help develop inventive and sustainable solutions that meet our clients' needs and touch every aspect of people's lives from the roadways and bridges you travel on, to the schools you once attended, to the water you drink from your faucet. Be part of a team that designs with community in mind.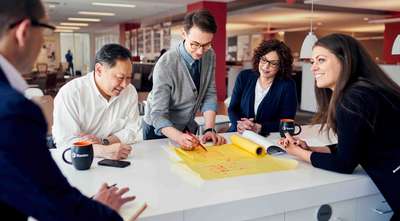 Graduates
Your long-term career with one of the top design firms in the world starts here. As a member of our global community of driven, passionate, and smart professionals, you'll have a chance to grow and develop as a future leader and innovator, work with other colleagues who offer fresh perspectives, and learn the foundation of engineering, and consulting in the client environment. Search our full-time positions under the 'Graduate Jobs' tab now to start your next adventure.
Create your own path
At Stantec, we support apprentices, graduates, and hires through several programmes. The Developing Professionals Group (DPG) actively works to combine the energy and innovative minds of our Developing Professionals (DPs) with the wisdom and experience of our company's leadership. Training for accreditation is available and recommended to employees pursuing their chosen profession.
Learning & Development
We've created comprehensive programmes that help you grow and achieve success through a blended learning environment made up of both formal and informal methods. These methods include internal training courses; eLearning; attendance at conferences, seminars, and events; professional memberships; coaching and mentoring programmes; and on-the-job learning.