Esh-Stantec is extremely proud to announce India Hutchinson has won the G4C New Professional of the Year Award at the G4C North East Awards.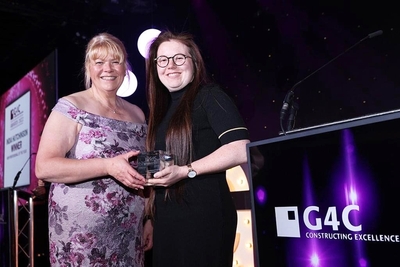 Generation for Change (G4C) is part of Constructing Excellence, supporting young professionals within the industry. India was chosen as the outright winner over ten shortlisted finalists at the G4C awards ceremony held on Friday 27 May 2022.
India joined Stantec as a Graduate in 2019 and is currently working within the Esh-Stantec joint venture, a company formed to deliver Northumbrian Water's Water and Wastewater Infrastructure Framework.
Recently promoted to Civil Engineer, this is great recognition of India's fantastic work on several major reservoir upgrade and maintenance projects and of her leadership and mentoring skills.
On winning the award, India said: "I'm very proud to have won the New Professional of the Year Award, out of a group of nine other inspiring professionals in the northeast construction industry. I'm grateful to be part of such rewarding projects, supported by the incredible teams that I work with at Esh-Stantec."
Máire Lenihan, Operations Director at Stantec said: "We are incredibly proud of India's achievements at Esh-Stantec. She has an enthusiastic and conscientious approach to her work and is an inspiring mentor for our future generation of Engineers in the North East. She has volunteered for additional responsibilities beyond projects that has stood her apart and been recognised by our clients. We are delighted that India has received the New Professional of the Year Award."