Stantec is delighted to announce that Lucy Ashen has won Graduate of the Year at the prestigious New Civil Engineer (NCE) Graduate & Apprentice Awards 2021.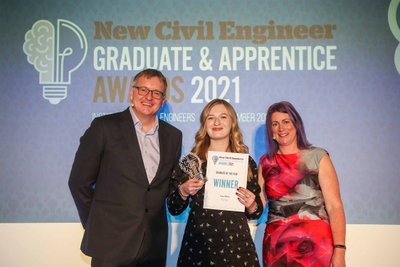 The NCE Graduate & Apprentice Awards are designed to recognise and reward the most inspiring civil engineering graduates, apprentices and degree apprentices. At this year's awards, the spotlight was on the role of industry to combat climate change. The awards were hosted after Glasgow was home to the world's largest climate conference COP26 last month.
Following her shortlisting Lucy attended a face-to-face interview with the NCE expert judging panel where she expanded on her vision for how our industry can take a leadership role in tackling the climate challenge. Lucy presented an implementation plan, including examples of how she's already actively trying to stimulate change through her project work and STEM activities.
One of her innovative ideas to drive change in the industry and our role in the climate change challenge was for engineers to challenge their thinking and look for innovative, low carbon solutions, that where possible provide multiple benefits to local communities.
She discussed a recent project where she promoted the use of high-quality, vegetated sustainable drainage systems (SuDS) from the outset with positive feedback from the client. Lucy considered how vegetated SuDS, such as swales and raingardens can reduce property flood risk and provide amenity and regenerate socially deprived areas.
On her award, Lucy said: "I'm extremely proud to be named Graduate of the Year and recognised for the progress I have made both on a personal and professional level, and for my ideas and experience addressing climate change and the work I have done to promote STEM careers in Yorkshire and the Humber."
The winners were announced at an in-person presentation ceremony at the Institution of Civil Engineers, London.