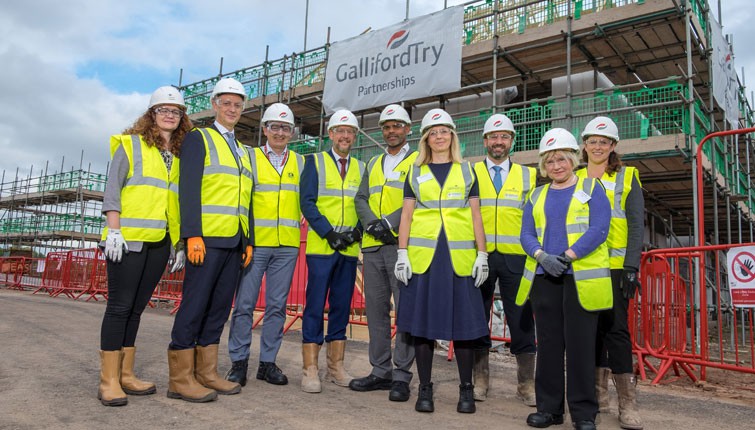 Mayor of Bristol Marvin Rees visited the Blackberry Hill site in Fishponds where work is underway to transform the former hospital into 346 new homes, including 100 affordable homes.
Galliford Try Partnerships organised the event so that key partners involved with the project could review progress so far and to see accelerated construction in action.
Many of the new homes are being built via an innovative modern method of construction – the SIG I-House – which means the homes can be built to high standards but in a much quicker timeframe than traditional construction methods.
Guests also included Bristol City Councillor Paul Smith (Cabinet Member for Housing), local ward councillors Nicola Bowden-Jones and Lesley Alexander, as well as key partners from Homes England and Sovereign Housing Association.
Stephen Teagle, Chief Executive of Galliford Try Partnerships, said: "This project really is about true partnership and regeneration. On the one hand, we've come together with the council, Homes England and Sovereign to unlock the true value of the site, and on the other we are using our regeneration expertise to transform these redundant buildings into a fantastic new community. Added to this, we're using innovative modern methods of construction to accelerate the delivery of the new homes, meaning we can bring forward affordable homes for local people faster."
Marvin Rees, Mayor of Bristol, said: "With 100 affordable homes and a high percentage of expected first-time buyers, Blackberry Hill absolutely fits in with what the council has set out to achieve – building quality homes for people that they can afford to live in. It's a great outcome for the city and shows our commitment to getting homes built. Our main focus is to work with partners who will deliver, and it's great to see these redundant buildings being brought back to beneficial use."
Kelly Hillman, Senior Development Manager in Public Sector Land, Homes England, said: "At Homes England we want to create great places to live on our land whilst speeding up the delivery of new housing. It is great to see our selected delivery partner, Galliford Try Partnerships, leading the way and making their own business choice to adopt modern methods of construction which will improve construction efficiency, efficiency and pace of delivery of new homes."