Our vision of a cloud-powered mobile future
DENSO is proud to announce its IoT cloud-based technology. This new technology replicates real-life urban environments and traffic conditions in a virtual space, then collects and analyses the data to anticipate traffic issues. The result is a more safe, secure and convenient mobility experience for drivers and passengers alike.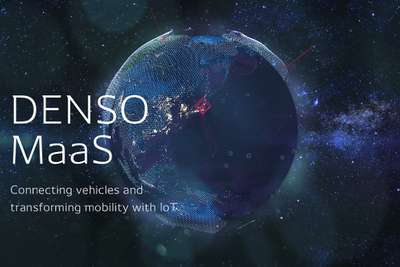 Technology
DENSO MaaS Architecture consists of two major technologies:
Mobility IoT Core, which digitises a vehicle's condition with a high degree of accuracy and sends vehicle data to the cloud. Mobility IoT Core enables real-time data collection and device control.
Digital Twin, which reproduces the real world in a virtual digital space using the data collected through Mobility IoT Core. Digital Twin provides actionable space-time information to various service providers, to help them control automobiles safely from the cloud.
Mechanism
With gateway technology that enables simultaneous connection of several million vehicles, the collected data is stored in Digital Twin's space-time database. You can access Digital Twin by designating time, location, vehicle, device, and other characteristics.
In the future, communication between vehicles and the cloud will enable the collection of busy city traffic patterns, environmental conditions and travel demands. DENSO will equip all vehicles with Mobility IoT Core to prepare for this exciting digital transformation.
Learn more about DENSO MaaS by watching this video.