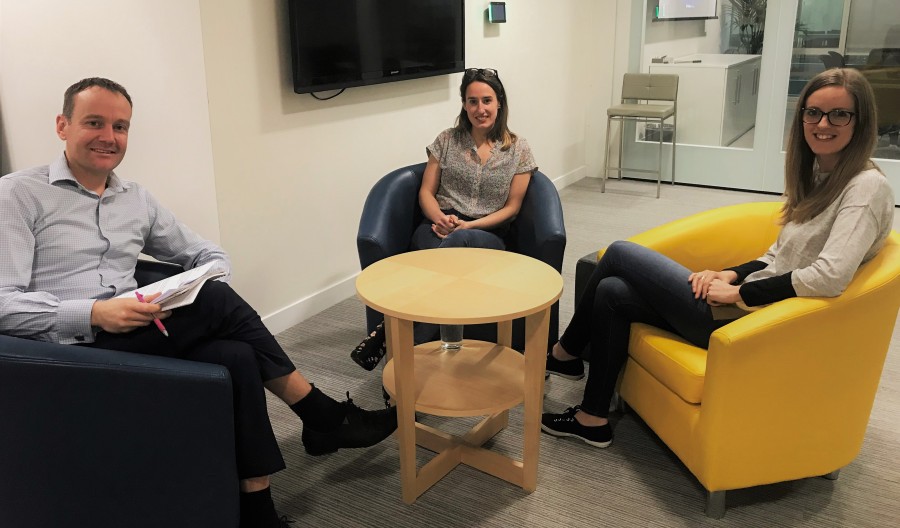 Recruitment Manager Brendan Hughes discusses women in tech with Kristie Ridgway a Senior Developer in Test and Heather Campbell, a Software Developer.
Brendan: Thanks for taking the time to discuss your experiences working in tech. As you know I'm a big advocate of diversity in teams whether it's gender, age/experience, sector or even just different ways of thinking. For the benefit of this chat, let's focus on women in tech. So firstly how did you both get into technology?
Heather: My background isn't in technology. I actually did a Geography degree, and I ended up at a fashion tech start up as my first job after uni. I really enjoyed working there. I could see there were a lot of opportunities in technology. It seemed really fast moving and just a really interesting part of the business to be in. It kind of sold tech to me.
B: You were in a product role weren't you?
H: Yeah I was a product owner, first at this fashion tech company and then at a mobile agency. At the mobile agency, I was working with a lot of developers and I remember getting really frustrated by the fact that I was in charge of the deadlines, but I could never really do anything myself if we were falling behind schedule. I just didn't have the skills. I started to speak to some of the devs around the pros and cons of being a developer and then stumbled on Makers Academy. I did a 12 week coding boot camp which I loved and then joined Trayport.
Kristie: I did a Bachelor of Science majoring in Information Science at uni in New Zealand. For my first year I wasn't sure what I wanted to do so I picked Psychology, Computer and Maths papers and went from there. I found I really enjoyed the computer papers and so made my major in Information Science. I got really hooked on how technology has an impact on the business. I liked the practical approach around how building things can make people's jobs easier.
B: How do you find working in an industry that's so male dominated?
H: At lot of the time I don't really notice, I never feel like I'm treated differently and I have all the same opportunities for progression. But it is always better to work in teams that are more balanced. That's not just gender specific but like you said earlier having people from different backgrounds and ways of thinking. The best teams are the most diverse. So sometimes it's hard in that sense.
K: I've definitely noticed I'm part of a minority but it's never worried me too much as I've always been fortunate to be part of really good teams.
H: I agree that being part of a really good team is the most important part. People will naturally warm to others who are similar to themselves so that can be a bit of a barrier when trying to hire people who are different to the usual candidates.
K: There's unfortunately not as many females in tech so we are always going to be a minority.
B: So why do you think there's so few women in tech?
H: At school it just never seemed like a natural route for me. We had 'IT' at school, but that was mostly making PowerPoint presentations and that was about the depth that it got to. I think part of it is that a lot of women don't really see it as a career option.
K: I guess maybe there is a bit of a stigma around it being a boy's subject and only attracting a certain type of person.
H: That's where the coding course helped. There were a lot of females from so many different backgrounds
B: That was the Makers Academy course?
H: Yes, that's right. A Lot of my female friends have asked me about the course and are starting to see it as a viable career. I guess it's easier when you see someone you know in the role, it makes people realise that anyone can do it.
K: It definitely helps having role models. I remember as a kid playing Solitaire and Minesweeper on our first computer and when anything went wrong ringing my aunt who provided the technical support. She really encouraged me to give it a try and pursue it.
H: It makes sense that if females don't have that person or role model to look up to then they don't end up going down that path.
K: She really pushed the mathematics and problem-solving aspects and because I enjoyed that at school, I decided to continue at university. It was only through trying it that I realised I enjoyed it. She's a Test Lead in Auckland and it's funny, we still bounce ideas off each other now.
B: I guess you've come through the testing route Kristie, but from my experience, you see a bigger drop off in women in Developer roles?
K: Yeah. I guess there is a perception that anybody can be good at testing as the focus is on attention to detail, problem solving and dealing with people. So maybe there is less of the stigma.
H: I think perceptions are changing as they are all also valuable traits in a Software Developer. It's not just about being good at coding (which we are!). I think it will just takes a bit of time and the more females that get into the industry, the more other females will see that it is a realistic career path.
B: I guess companies have a big part to play in how they define technical roles.
H: You're right. If your role is too focused on purely the technical side at the expense of the softer skills, you are going to restrict the types of people you hire. Your roles need to accommodate different strengths and skills.
K: I know when we are looking for Testers, we place a big focus on people's attitudes and behaviours.
B: It's interesting that when we did the Makers Academy programme, we changed our approach and focused more on softer skills like problem solving, aptitude to learn, communication etc. And as a result 2 out of the 3 hires were females.
B: So, in terms of having more women in tech, what are the benefits?
H: It's quite hard to answer that focusing just on women and without being very stereotypical. I've found that the women I have worked with approach coding differently in that they can be slightly more process driven and cautious. It's not about right or wrong, more about having different styles of working in the team.
K: Also, when you're trying to build a product that's going to be used by people of both genders, then it's always helpful to have the most diverse team possible working on it. Often we pick up on different things like "this is weird to use, this doesn't work for me".
H: I have a good example: the company I first worked at created software that was designed to be predominantly used by women, however the tech team working on it where all men. When I started looking at the software from a women's point of view, I noticed a lot of things that just didn't make sense to me. Basically they had applied all these technical limitations, but had no understanding of how a woman would use the software.
K: That's crazy, so you were designing a product that's going to be predominantly used by women, yet it's being designed only by men?
H: I guess that's a good example of where if you had half of your development team as women, it would have been an entirely different product. You have more of your user base actually designing the product.
B: Final question from me is what can companies do to get a better representation of women in technology?
H: Build an environment that feels welcoming to all different types of people. I know there's some companies that have a much higher proportion of female developers and they, for example, give space for a 'women in tech' group to use their office space. So clearly it's in their culture to inwardly promote that, by organising these events.
K: I think it's about chipping away at it. It's great we're talking about it and I've noticed there has been a real push to increase women in tech. I think it'll be awhile before it's an even split but I think we're moving in the right direction.
B: That's great. We thank you for taking the time to speak.
Author - Brendan, Recruitment Manager