Engineering/Business/Finance.
At Fluor, we are proud to design and build projects and careers. This requires teams that are as unique as the projects we execute.
We are committed to fostering a work environment that embraces Diversity, Equity, and Inclusion (DE&I) for all so our employees and stakeholders benefit from the creative solutions derived as a result of embracing differences.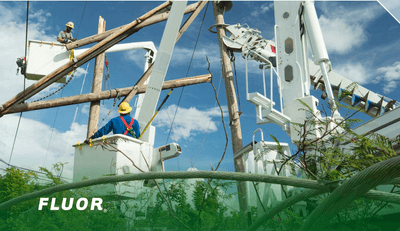 Job Description
Graduates! Fluor is a global Engineering, Procurement and Construction (EPC) company that has over 44,000 employees in 30 countries.
We are looking for the next generation of innovators and future talent to join us as we take on some of the biggest and most challenging projects in the UK and around the world.
At Fluor we design and build the facilities required to support critical worldwide demands for:
Electric vehicle battery materials
Carbon capture & decarbonisation
Sustainable fuel production
Pharmaceutical production
Chemical production
Natural gas processing and transportation
With a strong background in process plant, we are growing our portfolio of energy transition and sustainability driven projects and we invite you to join us as we embark on this incredible journey.
We are committed as a Company to sustainability and our Net Zero 2023 commitment is to eliminate both Scope 1 and Scope 2 absolute greenhouse gas (GHG) emissions by the end of 2023 for Fluor offices worldwide.
To meet our growing and transformational business needs, we are recruiting for our 2023 Graduate program intake.
We are hiring project controls and estimating graduates that will successfully achieve a Bachelors or Masters degree in engineering, finance or business related subject. If this could be you, we welcome you to apply to join our Graduate program and UK operations headquartered in Farnborough, Hampshire.
Notice to Candidates: Background checks are carried out as part of any conditional offer made, including (but not limited to & role dependant) education, professional registration, employment, references, passport verifications and Global Watchlist screening.
To be Considered Candidates: Must be authorised to work in the country where the position is located.
Basic Job Requirements
As a graduate you will be required to complete a discipline specific graduate development programme and participate in ongoing company funded learning to qualify as a Project Controls Practitioner.
As a Project Controls and Estimating Graduate you will study the fundamentals of the project controls and estimating disciplines in connection with a qualified training provider, incorporating the principles of project controls including estimating, planning & scheduling, cost control and progress monitoring.
In addition, you will receive grounding in the fundamentals of the engineering, procurement and contracting process, as well as construction principles and facility commissioning and hand over.
Your development will be an interesting and rewarding combination of on-the-job execution and technical project experience and learning supported by off project structured learning.
Other Job Requirements
At Fluor UK we value diversity and are committed to creating an inclusive culture where everyone is able to be themselves and reach their full potential. We actively encourage applications from people of all backgrounds and cultures and empower our employees to "Build a Better World".
We are a multicultural, dynamic and an open-minded company, passionate about the development of our employees. To support the growth of our people, we offer access to training, development programmes and challenging work opportunities across all levels of our company.
Through a combination of on-the-job experience, instructor led courses and Fluor University, our online training portal, we train and develop employee skills in all areas from leadership to technical subjects.
Our approach helps to ensure we are market competitive and supports a pay for performance culture, where your reward and career progression opportunities are linked to what you deliver.
Preferred Qualifications
BSc / BA / MSc / MA degree or equivalent.
What's on offer
Whatever your role, Fluor's projects will offer you extensive in-house training, a unique career, and fantastic benefits, including:
Competitive salary
6-monthly salary reviews for first 4 years
Flexible work hours and hybrid working Home / Office
Every other Friday off to provide at least 2 x 3-day weekends each month
Company Pension (Employer & Employee contribution)
Private Healthcare
Company funded social and employee resource groups

Graduates Advancing to Professionalism (GAP) run by graduates for graduates
GROW (Growing Representation of Women) a network of women and men working to attract, retain and develop women.
Sports & Social Club

Support and mentoring for chartership with accredited Professional institutions (including AACE)
We've signed the Gradcracker feedback pledge.
(This means that we will supply feedback if requested after an interview.)
1e127ede32d8f816eacfb0aed73cee11