What We Do
Fluor's projects are wide ranging including: studies, conceptual design, front-end engineering design, full engineering, procurement, fabrication and construction management. Our clients include major national oil and gas companies, national governments, private investors and industrial companies.
The depth of experience our employees gain is vast, not only in engineering, but also in project management, procurement, construction, commercial and legal aspects of the business.
Fluor celebrated its 100-year anniversary in 2012. Today, it is one of the largest engineering and construction companies in the world with more than 53,000 employees and offices in 32 countries. We execute projects around the globe so exciting opportunities may arise worldwide.
UK Headquarters
Established in the United Kingdom in 1957, Fluor Limited now undertakes many world-class projects across Europe, Africa, The Middle East and Central Asia. We execute projects in the Oil and Gas, Petrochemicals, Pharmaceuticals, Mining, Industrial, Transportation, Telecommunications, Power, Nuclear and Government sectors.
Headquartered in Farnborough, Hampshire, Fluor Limited is the UK operating arm of Fluor Corporation, which provides engineering, procurement, construction and project management services. Fluor's Farnborough campus is a state-of-the-art complex situated close to the main line station.
Our campus accommodates approximately 1,800 people and includes undercover parking, landscaped grounds with outdoor seating areas, a central coffee shop, subsidised restaurant and good access to local shopping and transportation networks. A shuttle bus service operates between the local stations and is also available at lunchtime for trips to local shopping centres.
We're Global
Fluor has major offices and job sites in many worldwide locations, providing opportunities for staff to gain invaluable global business and personal experience via short or long term project and office assignments. Some of our project sites are located in harsh environments and remote locations which require different skill sets and expertise, and where logistics are key factors in project success. Such projects provide special challenges, but also great satisfaction and reward.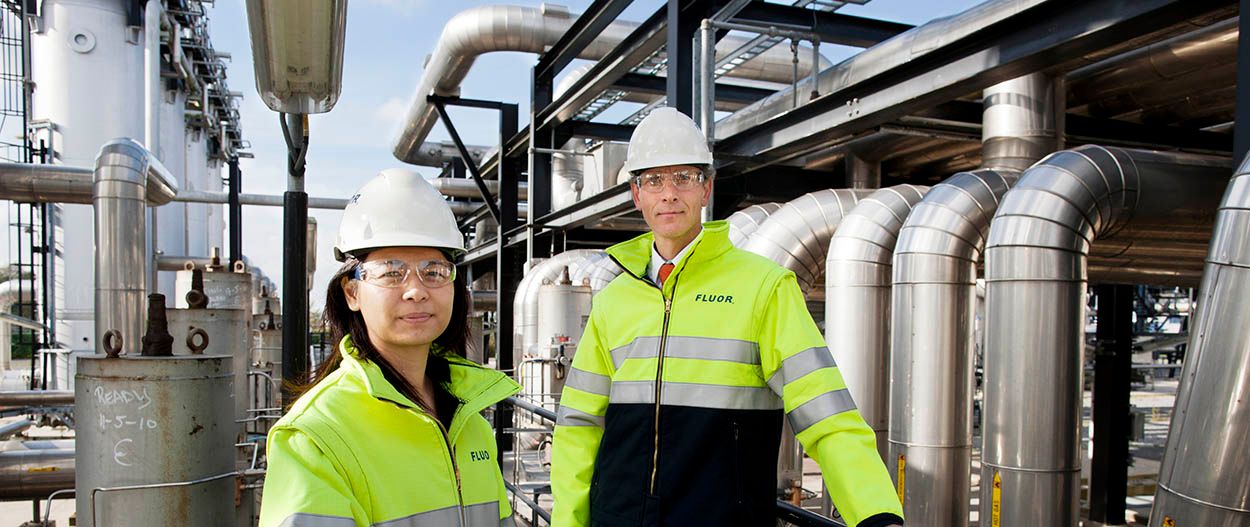 Our Graduate Programme - GRADUATES ADVANCING TO PROFESSIONALISM (GAP)SM
Fluor is dedicated to the development of its graduate engineers in their chosen profession to chartered status and provides excellent training and on-the-job opportunities. Each year, Fluor employs graduates across a range of disciplines.
The transition from graduate to competent qualified professional from day one is extremely important and, as a result, Fluor has created a programme known as GAP. This is a body run by existing graduates for new Fluor graduates. As well as scheduling social and networking events, GAP in the UK will provide professional training opportunities and support graduates with both their professional and social needs, helping to fulfil potential.
Throughout your career, Fluor actively encourages both professional and personal development through a structured career development programme, in-house training, Fluor University®, specialist development courses and mentoring.
Fluor has an industry recognised knowledge management system which provides access to global expertise around the world. Through OneFluorSM, the company has an established platform for personal interaction and collaboration with other Fluor members around the world.
Company Benefits
Competitive starting salary
Six-month salary reviews for first four years
Nine-day fortnight (every other Friday you have a three-day weekend!)
Company pension
Private Healthcare
Subsidised restaurant
Subsidised social activities
Graduates Advancing to Professionalism (GAP)SM - a company-funded social and professional group, run by graduates for graduates
We are a member of the Gradcracker Five-Year Club
We have been a Gradcracker advertiser for at least five years. We recruit regularly and should still be doing so whenever it is time for you to apply for placements or graduate positions - make sure that you Follow us to be alerted to any of our new opportunities.
Follow
Following