If you want to go to university but you're also keen to begin your career, our Flying Start degree programmes offer the best of both worlds. You'll get to work with world-class clients and be part of our highly skilled teams. Studying at university you'll get to experience the full-time student lifestyle but with integrated paid placements at PwC, you'll have some money to enjoy it too. You'll gain a degree, and hopefully impress us enough to secure a graduate job with us after you graduate.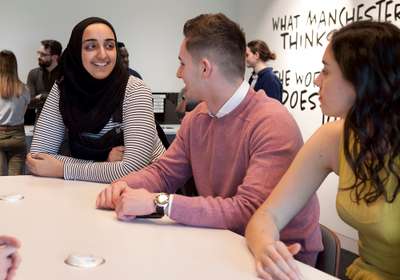 Accounting
Our Accounting Flying Start degree programme lasts four years and will fast track your career in Business and Accounting. During the programme you'll have three paid work placements with us. They're built into the university's academic year and last for just one term in each year, so you'll still have the whole summer off to enjoy. The programme will put you on track to becoming an ICAEW Chartered Accountant – you'll complete 80% of your ICAEW exams on the degree, and will be just over a year away from the full qualification once you graduate.
Technology
You'll study towards a full BSc degree in Computer Science, Software Engineering or Data Analyst, depending on which University you attend, and gain the relevant apprenticeship qualification too.
The degree is fully funded which means you don't need to pay your tuition fees and as a PwC apprentice from day one, you'll be paid a salary throughout your degree programme. During the programme you'll have work placements with us where you'll work on cutting-edge digital and technology client projects at PwC.
Business
Our Flying Start Business Management apprenticeship will help you fast track your career in business. From day one you'll be working on real client work as part of our Operate business teams in Belfast. Operate is the delivery and execution business within PwC offering clients more than just the best advisors from PwC – so our clients also benefit from a team that can help them take large scale challenges.