Our people are our strength and everyone working for Colas Rail plays a vital part in the company's success.
The Group employs 55,000 people in five countries
25% of our leaders have progressed from our Graduate Scheme.
Developing people is key to our operational success and we believe that the investment made in training and development is vital to maintaining competitive advantage.
We are committed to training and development to ensure that every possible opportunity is available to our staff. 25% of our leaders are from our industry recognised Future Leaders Programme (FLP) and the Apprentice and Graduate programmes we run are equally as important to closing the skills gap facing the industry.
We offer structured training schemes for apprentices, technicians and graduates and all employees are encouraged to pursue, on their own initiative, continuing education and training, particularly when this leads to vocational and professional qualifications relevant to their work.
Our Behavioural Framework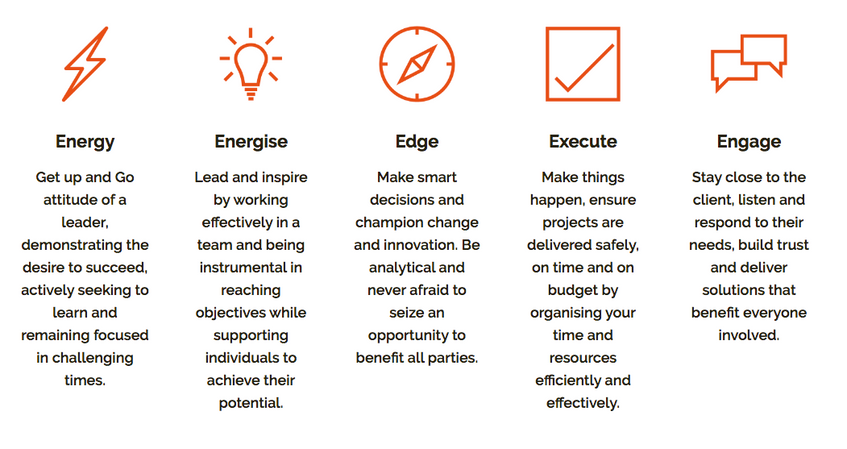 Our principles of employment
To provide safe and healthy working conditions for all employees.
To provide an open, challenging, rewarding and participative environment for all who work in the company.
To train and develop all employees to achieve their full potential.
To communicate the goals, direction and performance of the company.
To reward collective and individual abilities and personal performance.
To provide a working environment which encourages team work, commitment and loyalty.
To ensure an open access to career opportunities.
We look for bright, enthusiastic people who can work both independently and in a team with characteristics that tie in with our behavioural framework which is our approach to how we deliver the work at Colas Rail.
We are strong supporters of equal opportunities and seek applications from all graduates, regardless of gender, ethnicity, religious beliefs, nationality, disabilities, marital status or sexual orientation.
The performance of Colas Rail is dependent upon improving and developing the skills and abilities of all employees and our Equal Opportunities Policy, above all else, aims to achieve this objective.