It's natural to feel nervous when you're going for a job interview – getting to the right place at the right time, making a good impression and answering all those tricky interview questions. While we might not be able to get you there, we can help you prepare for some of those typically tough questions.

What's your greatest weakness?
This common question undoubtedly requires some prior thought. There are several ways you can approach it. You could come up with a skill that you don't need for the job, so for example, if you're interviewing for a retail position, you could say that your presentation skills aren't the best, but you enjoy talking to people one-on-one. Alternatively, you could give a natural weakness that many people have and immediately follow it up with how you're working on countering it as a weakness and the results you've achieved by fixing it.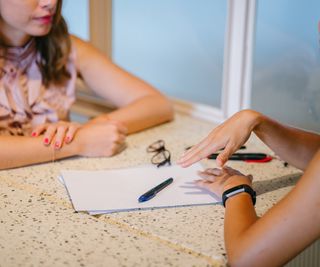 What are your salary expectations?
Ooo this really is a tricky one! First things first, do some research into how much the job is worth – and how much your skills and experience are worth to the employer. If there was a salary bracket on the job ad, you'll have a good idea where to start, but either way do you research. Later, when it comes to the negotiation, don't be afraid to say that you'll need to consider the offer.
Why are you leaving your current job?
OK, so this is only relevant if you're in a job already, but this isn't an opportunity to list the negatives of your current employer. Be honest, simple, stay positive and show your readiness for a new direction in your life.
Where do you see yourself in five years' time?
A fine line here – you need to be enthusiastic rather than arrogant. You need to do your research and look into what a career path looks like in the organisation, the sector and how your own experiences and skills fit with that. This is a good question to shine in, but a hard question to get right, unless you put in that much-needed research.
What's your most significant achievement?
Choose something that you are genuinely proud of. If this is your first job, you need to look outside of education – "getting a 2.1" just isn't going to cut it. Don't be vague, you need to be specific and use a tangible event or accomplishment that you can measure. Describe the situation, explain your goals, reveal the actions you made to achieve it and explain the result.
Whatever questions you're faced with on the day, you need to do your research. You're unlikely to win over the interviewer if you haven't prepared well and thought about your responses to questions you are bound to be asked. But remember, something in your application has stood out and the recruiter feels you have potential to fit the role, otherwise you wouldn't be in the interview in the first place. So, be confident and go for it!
Author: Andrew Clark