Join us online to discover how you can use your passion to teach physics.
Teaching takes you back to where it all started. It allows you to use your physics knowledge every day to communicate the subject in a thought-provoking and inspiring way and is crucial in shaping the next generation of physicists and engineers.
Our free webinar will give you an insight into how to start your career in physics teaching while answering any questions you may have.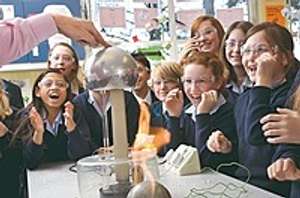 There'll be further information on IOP Teacher Training Scholarship which offers scholars £26,000 tax-free funding plus:
Access to a network of experienced physics teachers in their training region, with the opportunity to interact virtually with their scholar peers
Free IOP membership for their training year
Participation in online CPD events designed to help scholars develop additional physics teaching skills
Signposting to a wide range of IOP resources including IOPSpark & TalkPhysics
We'll also be joined by a Department for Education Teacher Training Advisor and provide further information on the different routes into teaching.
Webinar Dates:
Day in the Life of a Physics Teacher
Ever wondered what it's like to teach physics?
Is it for me?
What's a typical day like?
Is there room for career progression?
How would I manage disruptive students?
How would I manage practical lessons?
What are some of the biggest challenges in teaching (& the impact of COVID-19)?
What's the best thing about teaching?
Join us for the answers to these questions and more during our free online webinar with current physics teachers in the UK.
If you're considering a career in teaching and want to find out more, this webinar will give you an insight into the profession and help you find out what it's really like to teach physics.
Webinar Dates: