As a leading scientific membership society, one of our core aims is to secure a flourishing future for physics.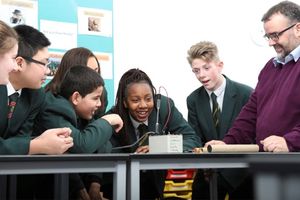 We want exceptional STEM graduates in the classroom, developing the next generation of physicists and engineers. And we're offering £26,000 tax-free scholarships to help you get there.
Teaching physics is doing physics
No single day in the classroom is the same. You will be required to think on your feet and use your creativity to address new challenges and answer unique questions. You will help your students to better understand the world around them, and give them the knowledge and confidence to pursue physics to A-level and beyond.
Although you will need to be resilient and patient, and have excellent communication skills, you will be supported throughout your training as you discover what it takes to become an inspirational teacher.
Career opportunities
Teaching physics is a rewarding and stimulating career - not only will you make the most of the skills and knowledge you have acquired from your degree, but your career options will be varied. You could move up to gain responsibility of the physics department, or become head of year. There are also opportunities beyond the classroom, like setting up a STEM club or coaching a sports team.
What's it like to be a physics teacher?
"Although I've done some exciting things after education, in the workplace and around the world, I don't think these experiences compare to the buzz of a learning environment in schools" - Matthew
"I think the thing that I enjoy most about teaching is being able to have conversations about how the world works with young people." - Dan
"I really enjoy thinking of creative ways to demonstrate complex ideas and feel that teaching provides a great opportunity to do this on a daily basis." - Amy
Find out more about becoming a physics teacher here.
Membership of the Institute of Physics
Start your journey with us as an Associate Member and become part of a vibrant community of people across the UK and Ireland who share your passion and excitement about what physics can achieve. We are here to support you throughout your professional journey, to help you develop your career and to realise your aspirations within the profession. As a member you can join any number of our special-interest groups, get active locally in one of our regional or national branches, volunteer in several exciting areas and explore online resources through our Career Development Hub. We also offer a series of options for professional registration to suit different areas of practice and career stages.
Find out more here.
We are a member of the Gradcracker Five-Year Club
We have been a Gradcracker advertiser for at least five years. We recruit regularly and should still be doing so whenever it is time for you to apply for placements or graduate positions - make sure that you Follow us to be alerted to any of our new opportunities.
Follow
Following