At Wates we are driven by our purpose of working together to inspire better ways of creating the places, communities and businesses of tomorrow.
The impact of our work on society
Delivering social value is intrinsic to our purpose and our goals of being a progressive and responsible employer. By considering social value in our business decisions, including the way we employ staff, engage with communities and buy products and services, we can cultivate a more sustainable and inclusive society, and demonstrate that business done well can be a force for good.
Our approach to social value is rooted in our belief that how we do business, is as important as what we do. Our programmes and activities are focused on creating work and training opportunities; building sustainable communities through employment, skills and awareness, and advocacy of trade with the social enterprise sector.
Our Social Value Strategy
Our social value strategy to 2025 focuses on the three strategic themes: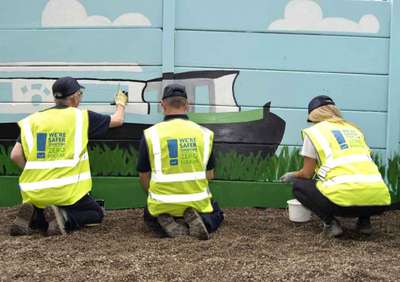 Challenging inequality
Inspiring and educating young people about careers in the built environment
Supporting and scaling the social enterprise sector
Our Guiding Framework
Values
Progressive
Sustainable
Trusted
We Care
We Are Fair
We Look For A Better Way
Engaging with the community
We support local communities by volunteering our people's time and expertise. We also recognise the important role played by charities to enrich the fabric of society as well as the value that skills development outside the workplace can offer in terms of transferable skills and motivation within the workplace.
Charity partnership: The Conservation Volunteers (TCV)
In May 2018 Wates Group announced a three-year charity partnership with The Conservation Volunteers (TCV), to help connect people and green spaces to deliver lasting outcomes for both. The charity's vision of creating healthier and happier communities for everyone is supported by our fundraising and volunteering to help transform more of Britain's green spaces and enhance wellbeing.
Evidence suggests social projects encourage an increased sense of community and help to combat the health risks associated with social isolation, as well as improve physical health and improve the local environment.
Due to the unprecedented challenges of 2020, we have extended our partnership with TCV to 2022.
Employee volunteering scheme, VIP
Our employee volunteering scheme, VIP (Volunteering, Impact, Professional Development) encourages staff to volunteer by providing 16 hours of volunteering leave each year to invest in local communities during work time. This can be through the Group's corporate charity partnerships or with an organisation of the employee's choice. Skills based volunteering (sharing professional expertise with organisations) is encouraged alongside traditional community- based volunteering
Over 10,000 hours were volunteered in 2019, across 153 events.
Wates Group's annual Conservation and Community Week provides an opportunity for staff to use their volunteering leave on local projects across the country, volunteering to help communities, protect the environment, and enhance sustainability.