The expected dramatic rise in the number of electric cars which will replace vehicles powered by petrol and diesel has been one of the big themes in 2017. From less than 2% of sales in 2015, the number of electrified cars sold in Europe is expected to accelerate significantly over the next decade to 15%.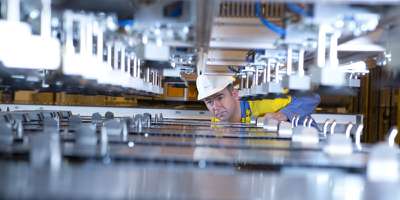 A key driver of this process is current and expected legislative change to reduce the impact of fossil fuels on human health and the environment. This has been super-charged by recent major announcements by the French and UK governments that they would end the sale of new conventional petrol and diesel cars by 2040. Others are likely to follow.
Competition will also accelerate the process, with some manufactures already indicating they will be going hybrid in the near future and more fully electric vehicles being developed by car makers. With steel's unique combination of recyclability, strength and affordability, the vast majority of these vehicles will still rely on steel in body panels, chassis components and electric motors.
For decades, we have led the way in helping to shape the future of the European car industry. The car sector represents more than a third of our European business (by revenue) and we are investing significantly in our capability to grow this vital area of our business in future. We strongly believe steel will remain the dominant material from which cars are made in future. Increasingly, advanced higher strength steels – as well as electrical steels and special plated steels – will make the cars of tomorrow lighter, stronger and more environmentally friendly.
Based on years of expertise as a leading supplier to car manufacturers, we have created a roadmap of the automotive journey to 2050 - when exhaust emissions on new cars are likely to be zero and the carbon impact of the lifecycle is likely to be important. Over the next 30 years we believe the value of steel required for car production will increase as manufacturers shift towards using cutting-edge steels. As a manufacturer of premium quality steel products we will continue to develop new innovative steels for the car of the future.
There are four key areas where we see steel playing a key role in accelerating the electric car revolution:
Car structure: Affordability remains a key consideration for consumers and the use of advanced steel offers the cheapest way of ensuring key areas – such as the body structure, chassis and interior components – are as light as possible.
Electric motors: as the number of electric vehicles rises rapidly, the volume and value of electrical steel that manufacturers will need to produce will increase hugely. Higher performing electrical steels can improve the efficiency of the motor, which leads to a car being able to accelerate faster or be able to travel further on one charge.
Battery pack: We are already developing solutions for batteries including advanced coatings and plated steels. New battery factories will be built to meet demand and they will provide a significant new opportunity for steel. Other electro-chemical technologies such as fuel cells offer additional opportunities for steel.
Infrastructure: European infrastructure is currently insufficient to meet the expected growth in electric cars and steel will be required for everything from charging points and electricity grid furniture, through to transformers and power stations. In future "mega city" developments, steel will be needed for zero-emission connected "driverless" cars, as well as new road construction and delivering energy for inductive charging networks.
As the car industry moves towards an electric future, we will be with them every step of the way because steel is the natural solution for the future of automotive.