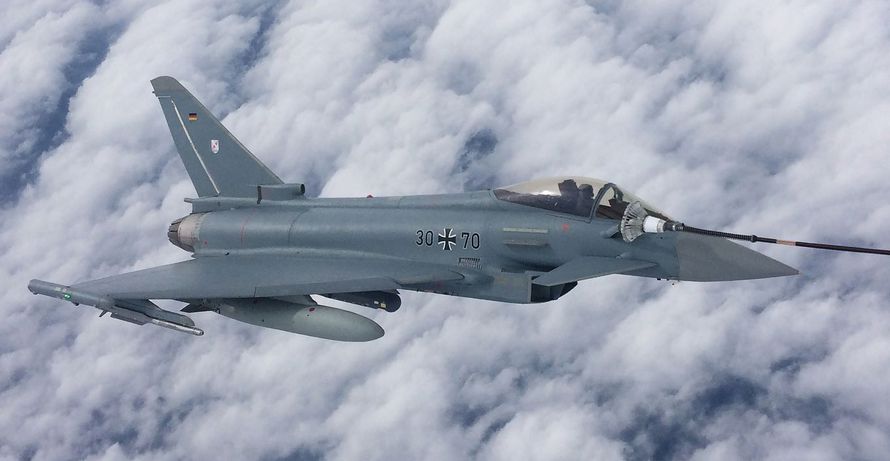 Royal Air Force tanker crews and their aircraft have spent two weeks in Holland as part of a major multinational refuelling exercise to improve interoperability between them.
Crews from 10 Squadron and 101 Squadron normally based at RAF Brize Norton in Oxfordshire have spent a fortnight operating from Eindhoven airbase during European Air Refuelling Training (EART) 19, an event that allows tanker crews from several nations to become familiar with each other's tactics and aircraft.
Leading the detachment supporting the RAF's A330 Voyager tanker, Squadron Leader Craig Gibson said:
"The opportunity to train with our partner nations has been fantastic. By operating alongside Dutch, French, or German tankers in one formation, we have been able to practice tactics and techniques that we can only do on an exercise like EART, refuelling French Mirage 2000 and German Typhoon fighters throughout the 2 weeks."
Alongside the RAF Voyager was a Dutch KDC-10, a German A310, while the French and USA each brought a KC-135. During the exercise the Voyager refuelled a range of aircraft including Typhoons from the German Luftwaffe.
Oli, one of the pilots, explained how air-to-air refuelling differs for tanker and fast jet crews:
"In the likes of Op Shader, the preparation for tanking Typhoons amounts to 95% of our mission whereas for the fighter pilot it is just 5% of their day. It is important for us to understand their needs and the pressures upon them when they join us to refuel."
This year was the first time that the RAF had taken part in the exercise. It gave the air and ground crews practice and experience at working away from their home base as operating in such conditions provides excellent training for operations. Likewise, multinational exercises provide invaluable familiarity with partners and their aircraft types that the RAF might have to work with in the future.
Flight Sergeant Paul Riley, one of the Mission Systems Officers on the exercise had flown onboard each of the nation's aircraft in order to develop and share best practice.
"Fuel keeps the fast jets, such as our Typhoons, in the fight. A big part of what this exercise was about was understanding their needs in order to be so much more than an airborne petrol station. For example, we synchronise our plans with their missions so that once refuelled we have manage to place them in the best location for the next part of their sortie.
"Tankers can also have an important search and rescue role that as their endurance allows them to keep over the area where the pilot would have ejected and thus coordinate any rescue mission. As the exercise has progressed the information flow between the various nations has got better and faster; this exercise has definitely been of great value"