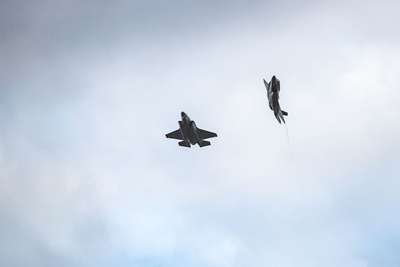 Aircraft from the Royal Air Force, United States Marine Corps, the United States Air Force and the Royal Netherlands Air Force have been conducting large scale exercises over the North Sea.
Exercise Point Blank is a regular quarterly exercise based in the UK, conducted by the Royal Air Force and the United States Air Force. For this exercise both RAF and United State Marine Corps F-35Bs jets are taking part as the first step in their training ready for deployment on HMS Queen Elizabeth II.
The Royal Netherlands Air Force sent their F-35As and there are also two USAF F-16 squadrons that are based in Italy taking part plus US B. The gathering of so many aircraft allows large-scale training missions to be conducted.
The Minister for Armed Forces James Heappey MP said:
"Flying alongside three fellow NATO nations over and around the UK in a complex war fighting scenario involving over 50 aircraft is exactly the sort of training that keeps our Royal Air Force sharp and ready to operate alongside our Allies whenever and wherever the call comes."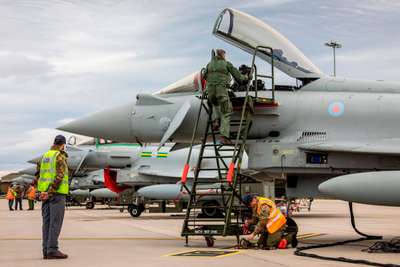 The exercise is the first flying training USMC Squadron has carried out following their arrival in the UK at RAF Marham and follows a period of isolation as a precautionary measure to combat COVID-19.
The Typhoons from RAF Lossiemouth took part in the exercise to provide the "enemy" role, this adds a significant challenge to the other exercising aircraft.