Air Specialist (Class 1) Luke Pollard triumphed at the Commonwealth Games 2022 with a gold medal, as Para-Triathlon guide for Dave Ellis.
Shining through the Birmingham drizzle, Luke described the win as, 'one of the proudest moments of his life.' This makes a spectacular return following disaster at the Tokyo Paralympic 2020 Games, when a broken bike chain forced the pair to pull out of the race.
Luke's sporting career draws upon skills also seen as part of military life, such as giving Dave visual support that is vital to ensure they successfully cross the finish line. Likewise, the RAF provides essential support to the UK and oversee territories for air, land, and space defence.
The Commonwealth Games gave RAF aviators the opportunity to showcase their talent and commitment to sports away from their military roles, in the hope to inspire others to join their local stations sports clubs.
Luke has also represented the RAF in Inter-Service competitions and has been supported by the RAF through the Elite Athlete Programme, which allows aviators to participate in sports while serving.
​Jeff Brock, Keith Sparrow, Phil Rea, and Ian Ireland also supported the Games, by organising and assessing competitions to ensure they were successful and fairly scored.
Group Captain Jeff Brock usually works at NATO Allied Joint force Command, in Naples. He was honoured to be a NTO for beach volleyball at the Games, finding sports a great tool for physical and mental wellness.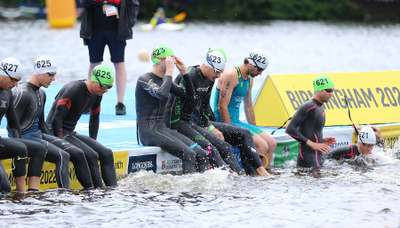 Squadron Leader Phil Rea attended the Commonwealth Games as a Squash Referee, away from his role with the RAF Chinook Delivery Team.
Phil has played Squash since the age of 15 and has gone on to become the RAFSRA Honorary Secretary.
Flight Lieutenant Sparrow ​Keith Sparrow attended as Lead Scorer for Beach Volleyball.
He is due to leave the RAF and 54 Squadron later this year, but he is grateful for the support the RAF have given him in his pursuit of sports away from his role at Royal Centre Defence Medicine.
Flight Lieutenant Ian Ireland volunteered at the Games as an International Federation Services Team Leader for boxing, providing the communications, support.
Offering unparalleled experiences, flexibility, and rewards alongside 'no ordinary job,' the RAF empowers its workforce to pursue sports alongside service.