Your Role/Part within the RAF
What encouraged you to join the RAF?
I studied Engineering at Leeds University and joined the Yorkshire University Air Squadron, one of many regional University Air Squadrons around the UK. It was here that I became serious about a career in the RAF. I applied for Aircrew and Officer Positions when I left University and was offered a commission as a RAF Engineering Officer.
What fears and anxieties did you have about joining the RAF?
When I initially joined even a short service commission seemed like a big commitment but the time has flown by and if it's not a good fit then there are options to leave the service. I like many others have chosen to stay beyond my initial engagement. I am 14 years into my military career. The time has flown by and has been filled with lots of fun and achievement.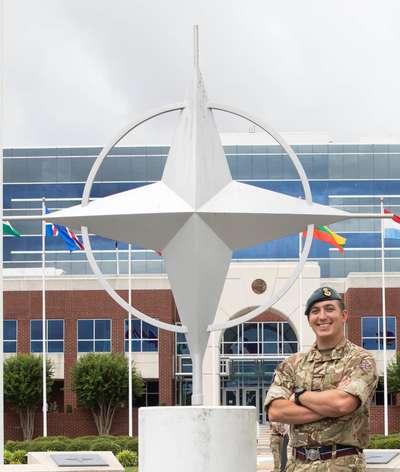 Recruitment Process/Initial Training/Specialist Training
What parts of the recruitment process do you remember the most? Why?
I still remember all the testing at the Officer and Aircrew Selection Centre (OASC). It was difficult but also fun, meeting new people from all over the country and overcoming the various challenges as an individual and as a team. Many of the people who I underwent OASC with became good friends and were also offered careers in the RAF. We helped each other succeed during selection and we still work well together now.
If you could go back, what advice would you give yourself about the recruitment process?
If I could offer any advice to those going through the recruitment process it would be to engage with those around you and to be honest about the things you need to improve. Making friends with your fellow recruits and working as a team will help you all succeed as individuals and if you're honest with yourself and others about what you could improve, it's the first step to fixing it. You may find others have tips on how they overcame similar problems.
What elements of Initial Training do you remember the most? Why?
College Hall is a beautiful place and I have many happy memories from my time there during Initial Officer Training but most of all I remember those who helped me succeed. I was far from the perfect cadet during Initial Officer Training and I remain very thankful for the Leadership Instructors who recognised my potential and helped me succeed.
If you could go back to dispel one myth/preconception about Initial Training, what would it be?
I fully expected my mobile phone to be taken away from me when I arrived at Initial Officer Training but this was not the case. Before long, I wish they had done so that I would have had an excuse to tell friends and family why I had not been in touch. The first few weeks were very busy both adjusting to the military and getting to know all my fellow cadets.
Briefly describe what you learnt in your Specialist Trade Training.
As an Engineering Officer I went through Engineering Officer Foundation Training for my specialist trade training. I graduated from University with a degree in Engineering and course took my existing knowledge and added the knowledge of RAF systems and the Engineering Management skills required to command large teams.
How well did your training prepare you for your first posting?
I think my training prepared me well for my first posting but you would have to ask my first Flight Sergeant, who was the senior non-commissioned member in my first team. My first posting was to Tactical Communication Wing where I was in charge of a large team of 50+ communications technicians. I deployed on numerous exercises and twice to Afghanistan provisioning SATCOM, Communications and Air Traffic Control services in austere environments. During all these deployments I was supported by senior non-commissioned members within the various teams I was in charge of. Every day is school day in the RAF, even after training and I have been lucky to work with some great people who have helped me continue to learn throughout my career.
What's the best part about your current job/role?
The best part of my current role is the location. I am currently located in a NATO HQ in Virginia Beach, USA. The weather is great and I get to work with military and civilian staff from all 30 NATO Nations. It is just one example of the variety of teams and locations around the world I have had the good fortune to work within and visit during my time in the RAF.
Professional and Personal Development
What further educational opportunities have you had that relate to your role?
See answer in above comparison with civilian roles.
What developmental opportunities have you had that are not trade-specific? (E.g. Leadership and Managerial, Instructor Qualifications)
I am currently progressing my Chartered Engineering application with support from the RAF.
What civilian qualifications have your earned, if any?
I have gained numerous civilian qualifications in the RAF mostly around engineering management such civilian accredited Management of Risk and Programme Management qualifications.
RAF Life/Station Life/AT/FD/Sports/Travel
What is the work life balance like in the RAF?
The work life balance in the RAF has been excellent. There is ample leave allowance to take time away from work and even prior to the pandemic I was lucky had the ability to work from home which enabled me to better balance work and family commitments with flexible hours and working arrangements.
What accommodation/messing facilities do you/have you used?
I currently serve overseas and live in a rented house near the beach. Previously I have lived in Service Family Accommodation on the bases I have worked. In all three of my houses I was close enough to walk to work so avoided the dreaded commute, which was great for my mental health and enabled me to spend more quality time with my family.
How helpful is the RAF Benefits Package (e.g. Medical, Dental, Disturbance/Relocation Allowances, Continuity of Education Allowance etc.) to you/your family?
The RAF Benefits package has been outstanding for me and my family. I have never had to wait for medical or dental treatment much of which has been provisioned by the Military Treatment Centres at my place of work and the cost of moving has always been taken care of. Whilst overseas we have benefited from a Living Overseas Allowance in my pay. The ability to claim for trips home and educational allowances have been available to ensure that my daughters educational is never a concern.
What kind of community facilities do you have on your station that you use?
At all the bases I have been there has been a gym and access to good running routes. It's great to have these facilities on your doorstep to either take advantage of during work or personal time.
What opportunities have you had to travel overseas with the RAF?
I have travelled to so many countries and visited so many amazing places during my time in the RAF. Highlights have been visits to Petra, Jarash and the Dead Sea during a deployment to Jordan. The best experience was learning to Paraglide in the Bavarian Alps, topping a close second and third of Parachuting in Cyprus and learning to Ski in Norway.
How much do you keep in contact with friends / colleagues from previous postings?
I still remain close with the people I went through specialist training who I consider all to be lifelong friends.