The Toyota Manufacturing UK Charitable Trust raised £194,000.00 throughout 2018 for local charities and good causes in the company's local communities.
Representatives of 37 groups in and around Toyota's manufacturing facilities in Deeside, Flintshire and Burnaston, Derbyshire, recently attended cheque handover ceremonies. This also included organisations working directly with Toyota staff, who are eligible for grants up to £5,000.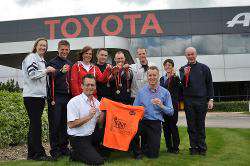 Jim Crosbie, Trustee for the Charitable Trust, and Deputy Managing Director at Toyota Manufacturing UK commented "it is an honour and a privilege to be able to support local people working in fantastic organisations doing so much good work and making a difference in our local areas".
Angela Hughes, Chief Executive, receiving a donation of £11,500 on behalf of Wales Air Ambulance, said "the generosity of Toyota and its incredible staff has been overwhelming and we cannot thank them enough. Their fundraising activities over the years have made a significant contribution to our lifesaving service".
Steven Howard, a Production Team Member at Toyota, and Assistant Manager of Victoria Colts Junior Football Club, who received a grant of £714.00 said "a massive thank you to the Toyota Manufacturing UK Charitable Trust for the amazing sponsorship which will go towards much needed kit and training equipment. With Toyota's generosity, our club and players will look extremely impressive in their new kit".
Funds were raised mainly through lean training activity, whereby organisations from around the world visit the Burnaston and Deeside factories to learn about Toyota philosophies with in-depth training by Toyota gurus.