Discover your perfect role!
At Mace, placements are a great way to understand which opportunities and roles are best for you. We offer two pathways on our Undergraduate Programmes: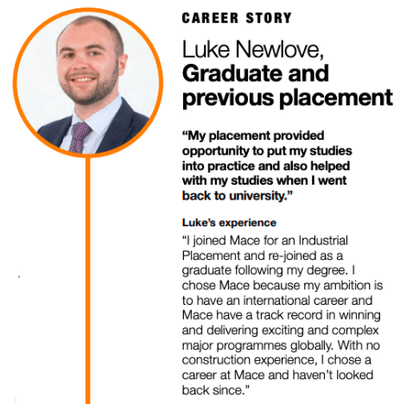 Summer Placements
Our Summer Placements are the perfect way to get a real taster of working in the industry.
Applications open to first, second or penultimate year undergraduates.
10-week programme running from June through to September.
Successful placements will have the opportunity to be considered to return on another placement or our Graduate Programme.
We're proud to partner our Summer Placement programme with the 10,000 Black Interns initiative to support our shared mission of transforming the prospects of young black people in the UK.
Industrial Placements
If you want to make your year in industry count, then our Industrial Placement is an excellent way to get an 'all-access' experience to prepare you for your final year at university.
Applications are open to undergraduates in their penultimate year of study on a sandwich degree course.
12-month programmes starting at the end of June.
Successful placements will have the opportunity to accelerate onto the Graduate Programme.
Programme requirements
To join one of our Undergraduate Placement Programmes, you will need:
GCSE Maths and English grade 4/C or above (or equivalent qualifications) and be studying for a degree.
Additional requirements may vary depending on the role you are applying for – for some roles, you may need a degree in a particular subject area.