Start your professional journey!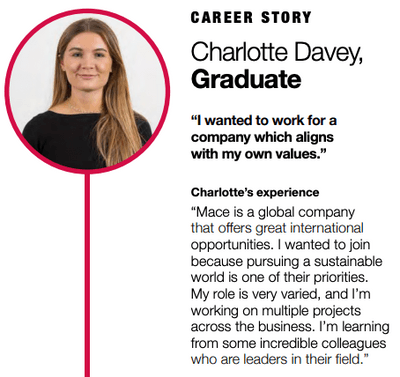 Mace offers a range of Graduate roles in commercial, project and construction management, plus many more – each role specifically designed to help you accomplish
your career goals.
The mix of training and on-the-job experience will allow you to grow your professional skill set, while you work on live projects.
Applications open to Undergraduates in their final year of university or recent Graduates.
Two-year Programme starting in early September.
Alongside your structured training programme, our in-house professionals will help you work towards your chosen professional qualification and membership (dependant on your role).
Programme requirements
To join our Graduate Programme, you will need:
GCSE Maths and English grade 4/C or above (or equivalent qualifications).
Additional requirements may vary depending on the role you are applying for - for some roles, you may need a degree in a particular subject area.